Forklifts
Give Your Productivity A Lift
Propane is the legacy fuel of forklifts, and for good reason. It keeps crews more productive, performs reliably, and reduces harmful emissions.
Proven Reliability That Doesn't Fade
Propane forklifts provide 100 percent power throughout operation, with one cylinder covering an entire eight-hour shift. The fading power of electric forklifts makes your employees less productive through the day.
Proven Reliability That Doesn't Fade
In the long term, propane cylinders are a smarter choice than electric batteries. Cylinders can last up to 30 years with requalified use, but batteries only perform a few hours per charge and are only practical for infrequent use.
Better Savings in the Long Term
The capital costs of propane forklifts are almost 30 percent lower than those for electric, when factoring in required refueling and recharging—allowing you to save more for other line items like new employees, or business development.
Better Savings in the Long Term
Propane cylinders also last three times longer than batteries, and their lifespan isn't affected by the amount of fuel left in the tank. A forklift battery with too high or low of a charge can have a much shorter lifespan.
Clean, Safe Operation Indoors
Propane forklifts reduce SOx emissions by 76 percent versus electric, and NOx and hydrocarbon emissions by 94 percent versus diesel. It's not only better for the environment, but protects your employees from harmful toxins.
Clean, Safe Operation Indoors
In fact, well-maintained propane forklifts meet or exceed nationwide indoor air quality standards.
Real Talk: Indoor & Outdoor Operation
Unlike diesel forklifts, propane forklifts operate clean enough to operate indoors. In fact, 68 percent of forklift fleets work both indoors and out. This indoor-outdoor versatility can give you a significant productivity boost.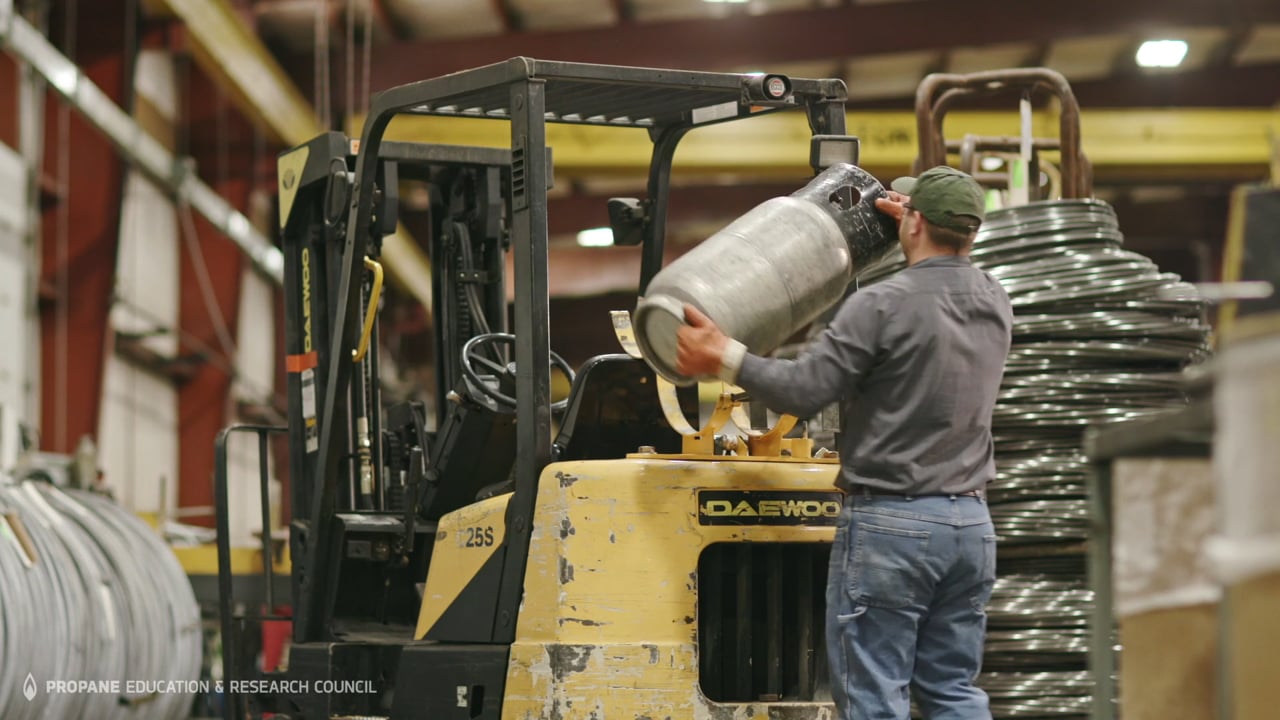 Real Talk: Refueling
Electric batteries take a few hours to recharge a single battery. To refuel with propane, all you do is remove the empty cylinder, securely attach the full one, and get back to work. Your crew will never be caught without the power they need to get the job done.
Real Talk: Indoor & Outdoor Operation
Real Talk: Refueling
Real Talk: Acquisition Costs
---
Explore Propane for Forklifts
Indoor Air Quality Video
Ten facts from the Propane Education & Research Council about indoor air quality.
Watch Video
"I definitely prefer propane forklifts. With propane, you run at 100 percent until the tank is empty, and then it takes you 2 to 5 minutes to change the tank and you're back at 100 percent." Adam Winchester, Helping Harvest Food Bank Operations Manager
Enter your zip code to find a propane supplier
If you're wondering, "Where can I find a propane supplier near me?" then you've come to the right place. Propane is the energy for everyone, and your local propane supplier can help you assess your energy needs for your home or business. They can also answer any questions about what makes propane so affordable, reliable, and versatile. Enter your zip code to find suppliers near you.
Didn't Find What You're Looking For? Check Our FAQs.
Where can I buy propane appliances?

Propane.com offers shopping guides for grills and patio heaters or contact your local propane supplier for suggestions nearby. Some propane suppliers offer appliance showrooms featuring everything from space and water heaters to kitchen appliances and fireplaces.

What do I do when my portable propane tank is empty?

When the propane tank you use for grilling or other outdoor appliances is empty, drop it off and purchase a full tank at one of thousands of tank exchanges nationwide. You'll find them everywhere from hardware and rental stores to grocers, convenience stores, and gas stations. In addition, there are many propane cylinder refilling locations available across the country. Contact your local propane supplier for more information on refilling or exchanging cylinders.

Where can I find someone to service my propane appliances?

Your local propane supplier is an excellent source of information for things like propane appliance servicing and repairs. Contact them with your questions about servicing, repairing, or replacing propane appliances.