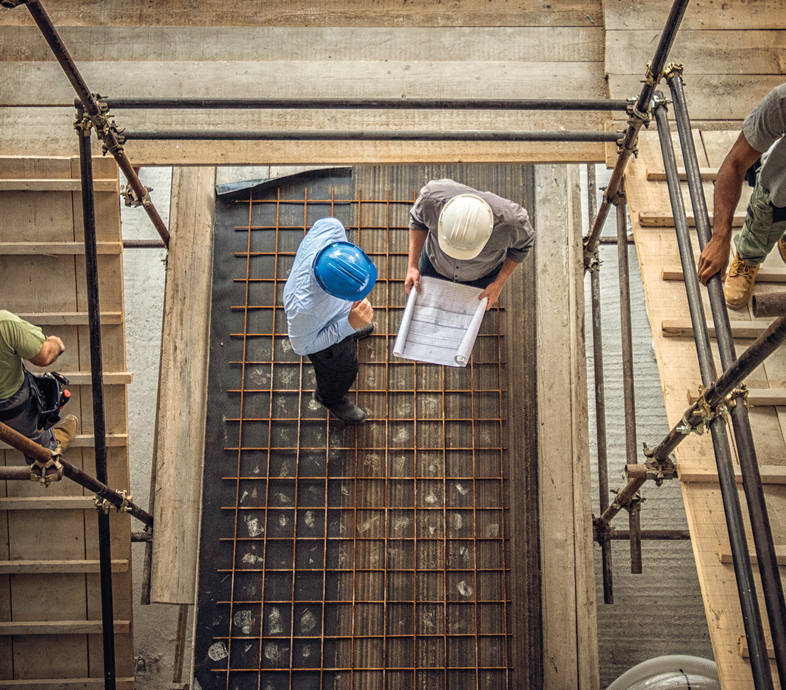 Propane heat for your business
Propane heaters, furnaces, boilers, and water heaters can enhance your commercial building or project. See how high-efficiency propane heat can meet your building performance goals.
Jump to your heating need:
Heat Your Building More Efficiently
No matter where your project is located, propane heat is readily available to meet even the most demanding performance requirements. Whether you're at the construction stage and need a heater to keep your project going through the frigid winter months or the mechanical design stage specifying a boiler or furnace, our resources can help you select quality heating products with lower operating costs.
Or for homebuilders, visit our residential construction page.
Temporary Heat
In the nonstop environment of a construction site, you can't afford to let frigid weather grind your project to a halt. Temporary propane heat can be used not just to improve worker comfort but also to keep the construction process going by allowing water-based products such as concrete, drywall, and paint to dry.
Temporary heaters have come a long way from the days of mushroom-style pot heaters, which had the potential to spread carbon monoxide throughout a building. Today's heaters run much more efficiently, using technology such as electronic modulating burner controls and remote space thermostats to automatically adjust gas flow. They can also draw clean outside air for combustion or be placed outside with temporary ductwork to deliver heat to the building. And they are available for seasonal rental.
Whether you need for your construction site or a temporary emergency facility, check out our resources to learn more about temporary heat.

Temporary Heat for Commercial Buildings
Keep workers warm and productive
In some regions, regulations require that workers have supplementary heating when work area temperatures drop below a certain level. Learn why propane is commonly used by contractors in their construction heat projects.

Three Tips for Better Temporary Construction Heat
Meet your construction timeline
Temporary heat is especially important in projects with finely engineered materials, such as a gymnasium floor. Here are three tips to help you ensure temporary heat keeps your next construction project on track.
Building Heat
Some of the most cutting-edge heating technologies used in commercial buildings today are fueled by propane. Propane furnaces are available in capacities from 44,000 to more than 1 million Btus/h, and efficiency levels of 80–98.5 percent to meet your specific building's heat demand.
Commercial propane boilers are used to generate hot water or steam for various building applications. Their ability to supply both domestic hot water and space heating makes them ideal candidates for commercial installations. Propane-fueled equipment is also a great option for buildings switching away from outdated heating oil equipment, providing better efficiency, cleaner emissions, and safer storage systems. Learn more below.

Commercial Furnaces
Facts at a glance
Propane furnaces offer great flexibility in both the type and capacity of the equipment, which makes them a good fit for many different commercial buildings. Check out our fact sheet to learn more about furnace applications.

A 7-point plan to find the right boiler
Have a plan
Boiler retrofits can make a major impact on a building's heating and hot-water performance. If your facility's older boiler isn't providing the performance you need, here's what to look for in a boiler retrofit.

Boiler conversion provides $30,000 savings
High school case study
Inspired by a successful switch to a propane-autogas-powered school bus fleet, the Sanford School District went with a familiar fuel to replace its failing heating system. Check out the video to see the results.
Water Heating
Over the past 10–15 years, commercial tankless water heaters have evolved from an obscure and novel option to emerge as a growing mainstream water-heating specification.
Commercial tankless water heaters have the versatility to meet a wide range of load types while offering reliability, energy-efficient performance, and a space-saving footprint. They're available in a range of capacities and can be combined into larger arrays for water output rates of several hundred gallons per minute. And they don't waste energy or space keeping a large water tank hot at all hours. Check out the resource below for examples of how propane tankless water heaters can solve your water-heating challenges.

The Advantages of Going Tankless in Commercial Buildings
Video overview
Tankless water heaters are more efficient because they don't have to store and heat large volumes of hot water. See how businesses are achieving significant space savings and energy savings with tankless water heaters.

Sizing Commercial Tankless Water Heating
Examples for different building types
See how propane tankless water heaters meet the needs of your commercial building. Here are a few examples of how propane tankless water heaters can solve your water-heating challenges.

The Ultimate Guide to Commercial Tankless Water Heating
Perfect your installation
Commercial tankless water heaters have emerged as a growing mainstream water-heating specification. This comprehensive guide collects our most valuable resources on commercial tankless water heating.