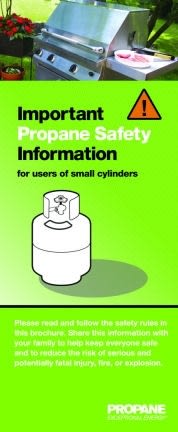 Product No. PRC-000017
Small Cylinder Safety Brochure
This brochure contains detailed information on important small cylinder safety issues.
Warranty: 1 Year
Important Propane Safety Information for Users of Small Cylinders Brochure. Brochure sections include steps to take if you smell gas, transportation and storage of cylinders, tampering with cylinders or outdoor appliances, testing for leaks, odor fade, refilling of cylinders, and disposal of old or damaged cylinders. A scratch-and-sniff test is also included. The eight-panel, 3 x 9 (folded) brochure fits in a standard business size envelope, or can be used as a self-mailer. It is designed to assist marketers with duty-to-warn compliance. (125/pack)
Sign in to add this item to your cart.