Bringing Families Together: Propane Can Do That.®
There's nothing better than cooking up an incredible meal with the family with the help of a propane grill. Watch along as acclaimed chefs Bryan and Michael Voltaggio, best known as Top Chef reality television standouts and owners of numerous highly-respected restaurants, pair their culinary skills with propane outdoor cooking equipment to create the very best recipes that can be easily recreated with your own family.
New videos will be added often, so check back frequently as the Voltaggio brothers take mealtime to the next level cooking with propane.
Recipes (Check often for more to come)
Propane Grilling Safety
Propane grills are the best way to spend time with your family, enjoy your outdoor living space, and cook up some mouth-watering meals. It's important to follow a few simple safety tips, too, every time you pull out the propane grill this summer.
Follow the manufacturer's instructions: Whether it's assembly, use, maintenance, cleaning, or storage, make your grill manufacturer's instructions your go-to resource for safe grilling.
Position the grill in a safe location: Keep your grill outdoors and at least five feet from the house on a level surface that is clear of outdoor furniture, overhead trees, or other potential fire hazards.
Check for leaks: Use a soapy water solution to check connections for leaks. Expanding bubbles indicate a leak. Follow this procedure every time you replace a cylinder.
Follow proper lighting procedures: Follow the manufacturer's lighting instructions, and with all grill models, keep the lid open and don't lean over the grill when lighting it.
Follow proper re-lighting procedures: If your flame goes out, turn off the gas and refer to your owner's manual. At a minimum, with all grill models, keep the lid open and wait at least 15 minutes before relighting.
Be present: Stay close and never leave your grill unattended.
---
Bryan Voltaggio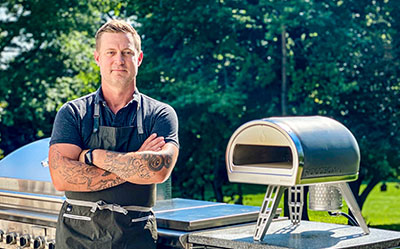 Chef Bryan Voltaggio is the executive chef and owner of multiple restaurants including VOLT, and Family Meal, and is the chef and partner at STRFSH, Voltaggio Brothers Steakhouse, and Estuary. Bryan is a finalist of the James Beard Foundation Award, Top Chef (season six), Top Chef Masters (season five), and most recently Top Chef Allstars (season sixteen). He is the author of HOME and co-authored VOLT Ink with his brother, Michael. He lives in his hometown of Frederick, MD with his wife, Jennifer, and their three children Thacher, Piper, and Ever Maeve.
---
Michael Voltaggio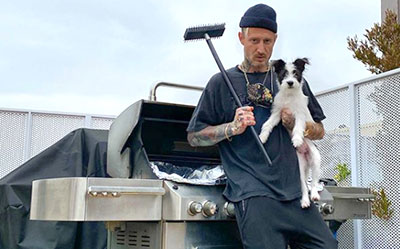 Chef Michael Voltaggio is the executive chef and co-owner of Estuary, Voltaggio Brothers Steak House, and STRFSH with his brother, Bryan Voltaggio. In 2009, Michael was a finalist for the James Beard "Best New Restaurant" award. World-renowned chefs praised Michael for his technical cooking when he clinched the title of Top Chef in the sixth season of Top Chef. In addition to appearing regularly on a variety of cooking shows, he co-authored VOLT Ink with his brother. Michael lives in Los Angeles.