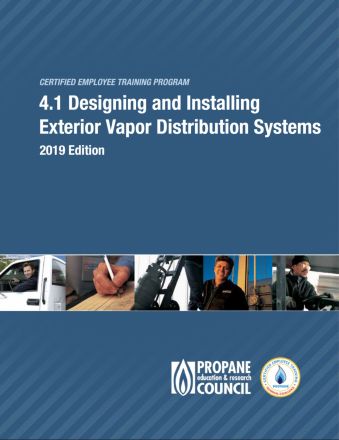 Product No. PRC-009401
CETP 4.1 Designing and Installing Exterior Vapor Distribution Systems Book
PRC-009401 The training program provides current information, practices, and procedures to safely and efficiently design and install exterior components for residential and small commercial propane vapor distribution systems. Program available in a textbook and on-line e-learning format.
Warranty: 1 Year
This CETP training manual focuses on the design and installation of the exterior portions of a vapor distribution system for both residential and small commercial markets. This course addresses how to select and install containers, prevent corrosion, size and install regulators and meters, and select and install outdoor piping and tubing.
The topics covered are:
Designing vapor systems: container and lines
Designing vapor distribution systems: regulators and meters
Preparing system components for transpor
Installing containers
Installing lines
How to analyze and prevent corrosion
Installing regulators and meters
Other installations
System tests
Related Products:
PRC-009401 – printed textbook; sold individually
9056-IT-19 – (Instructor Tools) downloadable PDF files including a PowerPoint presentation, instructor guide and digital book file
E-Learning available at www.perc.its-training.com. Learn > Use Voucher > 84220 > Voucher Owner: PERC1075
PRC-003004 – NFPA 58, 2017 LP-Gas Code Book
PRC-003014 – NFPA 58, 2017 LP-Gas Handbook
PRC-003002, NFPA 54, 2018 LP-Gas Code Book
PRC-003022 – NFPA 54, 2018 LP-Gas Code Handbook
Sign in to add this item to your cart.