Top Picks: Propane Autogas
Top Picks: Propane Autogas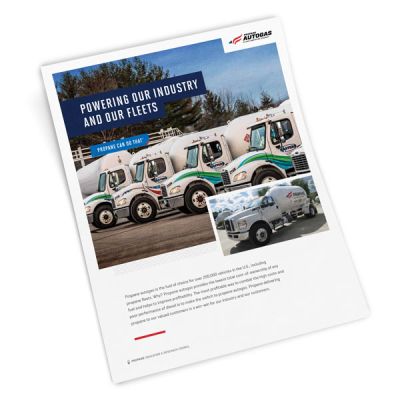 INDUSTRY FLEET ADOPTION
For propane marketers, running a fleet on propane autogas as your primary fuel is an opportunity you can't ignore. Not only will you enjoy the lower fuel costs and total cost-of-ownership, with every trip you'll be proving to customers just how much you trust the fuel. There's no better time to make the switch than right now.
Explore our Propane Industry Fleet Vehicle Fact Sheet, that covers every make and model of propane autogas-powered fleet vehicle available. You can find this, and other valuable propane autogas resources, at Propane.com/IndustryFleets.
---
SCHOOL BUS OUTREACH
Propane autogas buses check all the boxes for school transportation officials, from lower total cost-of-ownership to the complete selection of quieter, safe buses from every leading manufacturer. Everything you need to engage with them is available to you at Propane.com/School-Transportation, including:
Videos.
Downloadable case studies.
Fact sheets.
Interactive infographics.
A Fleet Costs Calculator.
The Autogas Refuel e-newsletter.
And more.
---
VW SETTLEMENT OPPORTUNITIES
After years of planning, states have begun to spend their share of the $2.7 billion Volkswagen Environmental Mitigation Trust funds to reduce nitrogen oxide (NOx) emissions from vehicle fleets. PERC has been working with state associations to get propane vehicles approved in each state's VW funding plan. In particular, the industry has targeted school bus fleets to reduce the amount of harmful diesel emissions in every state.
At Propane.com/VW, you'll find resources you can use in your local efforts, including:
Emissions information for school buses.
Useful infographics that make the case for propane.
The Propane Autogas Bus Map that shows adoption rates and emission reductions by state.
Information on costs and propane cost-effectiveness.
The NOx Emissions Calculator.
Mitigation funds by state.
And more.