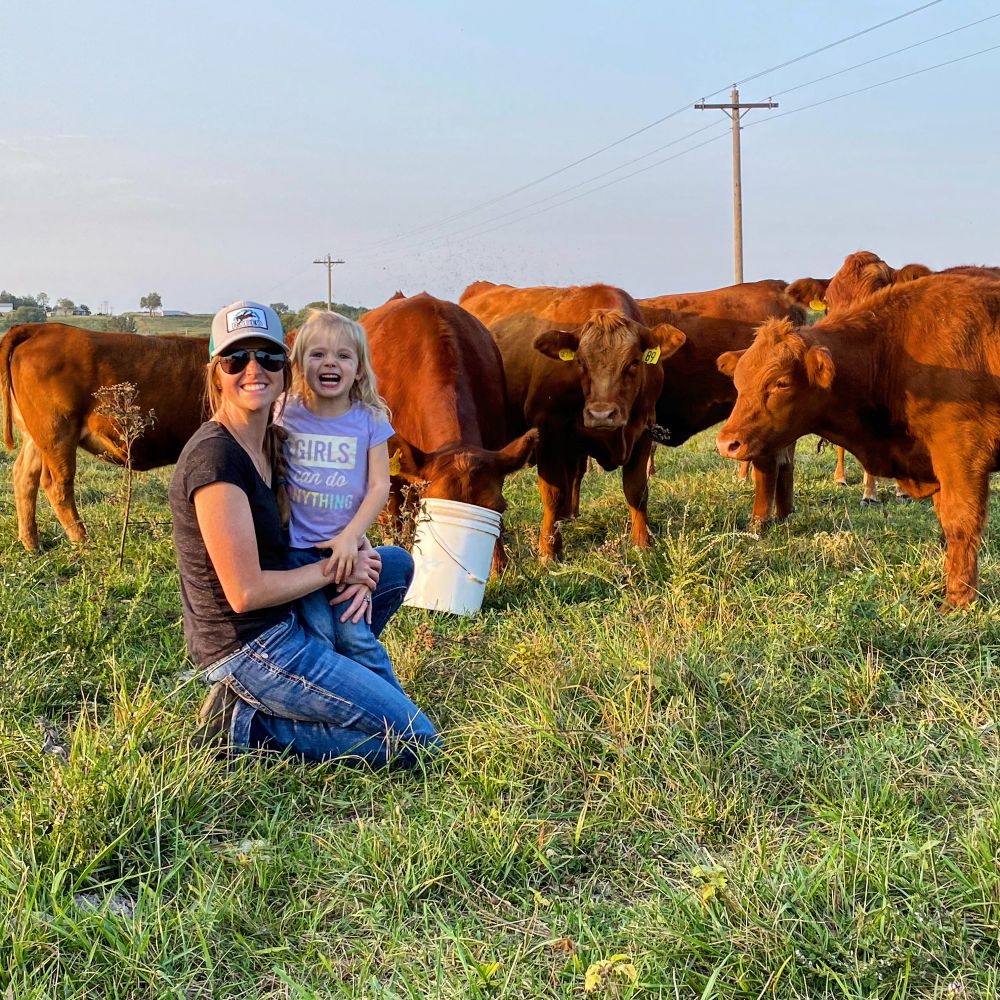 Sustainability is Top of Mind For This 4-H Alum and Cattle Rancher
Find out what's buzzing with Brandi Buzzard
Sign Up for Can-Do Journal Updates
Mother to a beautiful daughter, and some four-legged babies too, Kansas-based rancher Brandi Buzzard has a lot going on. Between her family, her job as director of communications for the Red Angus Association of America, and her cattle farm, there is never a dull moment. The Propane Education & Research Council partnered with Brandi to spread the word about why 4-H is important to young farmers, and how propane can play a key role in agriculture and sustainability.
Explain what a typical day on your ranch is like.
I wouldn't say we ever have a typical day but in these winter months, there are some consistent activities! We juggle getting our daughter to daycare while also feeding the breeding animals silage and hay, caring for the horses and then feeding the freezer beef cattle their supplement. Throughout the day, we may need to run to the feed store for mineral or the part store for [another] piece to fix the silage wagon or the tractor. We generally will make sure cows on leased pasture have gotten their hay, supplement and mineral before feeding horses, chickens and freezer beef cattle again in the evening and calling it a day. Because we both have full-time jobs, we do a lot of the big projects like hauling cattle, fixing fence, vaccinating cattle, etc. on the weekends or after we get off work and pick up our daughter from daycare. There's usually a lot more of that "fixer upper" time in the summer when the cows are on grass.
What inspired you to start breeding cattle?
I always knew I wanted to be involved in beef production when I was growing up — I just wasn't sure what that would look like. Once I met my husband and we started talking about our career and life goals, it made sense for us to follow our hearts into the cow/calf sector. It was just a natural progression from college to cattle owners.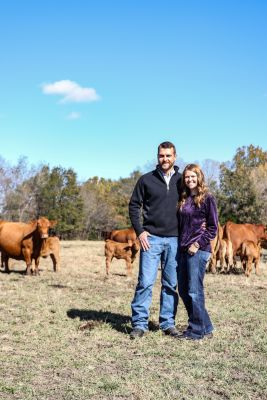 How does your daughter help out on the farm?
She goes nearly everywhere with us! She feeds her pony and some of the other animals on her own, she rides with us in the feed truck to roll out hay and feed supplement, she loves checking mineral tubs and, in the fall, she loves checking for new calves. She is very involved and truly loves being with the livestock, in the pasture, or on horseback.
What is a common misconception about the beef industry that you wish people knew the truth about?
I wish more people understood how much farmers and ranchers like myself care about our land and preserving it. I love our wide-open blue skies and vast green pastures, and we work tirelessly through soil and water management plans, rotational grazing, and nutrient management to keep our environment clean and healthy not only for ourselves, but for the next generation.
What does it take to be a successful rancher and farmer today?
First and foremost, you have to be willing to accept that things are not going to be perfect. Equipment breaks down, cows have a mind of their own, and the weather is uncontrollable. Success is found in how you manage the wild cards you're dealt, while doing your best to be prepared for the unknown.
Why is it important that farmers use sustainable and environmentally friendly fuels and practices?
We only have one Earth, so we need to take care of it. We have more than seven billion people on the planet right now and they all have something in common — they want to eat nutritious food. If we want to ensure ample, safe food worldwide, we have to make sure we are making decisions that will help preserve our resources and environment for generations to come. Practicing good stewardship and utilizing sustainable practices is the right thing to do, and I'm always on board with that.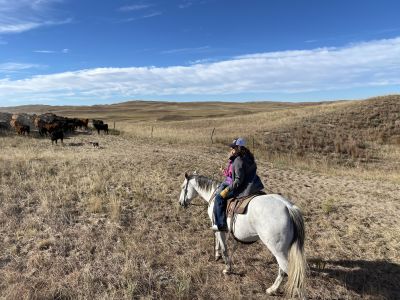 How does propane help you and your family accomplish what you need to do on your farm?
We are always looking for ways to keep our cattle healthy and fed while using resources that are available to us, and that includes using local/regional feedstuffs. We live in a very ethanol-heavy area and a by-product of ethanol production is distillers dried grains with solubles (DDGS). DDGS are a good source of energy and protein for our cows that are readily available and affordable. We also love that we are helping reduce waste by utilizing this by-product, since it's inedible for humans. Without flexible feed options, provided by propane, we would have to look at other feedstuffs, which may potentially be less effective and more expensive, and that would obviously present its own set of challenges.
Why is it important to you to support the next generation of farmers, and what are some of the ways you go about doing that?
I love this lifestyle — the wide-open spaces, clean fresh air, and the freedom that comes with living out in the country are unparalleled by any cityscape. I wish more people could experience it, honestly. And if there are young people out there that want to get started in farming or ranching, we have to be willing to answer their questions and help them because they are the future. Countless people have answered our questions, shared their best advice and helped us get our feet under us because that's the way of rural America. We are happy to help the next generation get going and have a few young folks who turn to us with questions about cattle and land management, which we are happy to assist them with. No one gets anywhere on one's own and I believe we are all "better together."
How does your job directly impact young people in the industry?
Working at a beef breed association, I get to travel to a few shows each year and connect with young 4-Hers who are passionate about the cattle industry and showing their livestock. They are excited to practice their craft and also learn more in the process — I'm so grateful to be able to see, firsthand, their growth and development from youth, to youth leader. I also am fortunate to work with several members of the Junior Red Angus Association of America who have taken their leadership to the next level and wish to learn more about career goals, leadership development, and building their skillset for the next chapter.
You and your husband are both 4-H alumni — what is one of your favorite 4-H memories?
One of my favorite memories is winning Reserve Grand Champion Lamb in the market show. The lamb project was new to me, but I had always wanted to try it and I learned so much. I worked so hard with my lamb to get it to brace, groom it and have it ready for show day — I was exhausted after the market show and showmanship but proud of what I had worked so hard to achieve. Raising and showing lambs is not for the faint of heart!