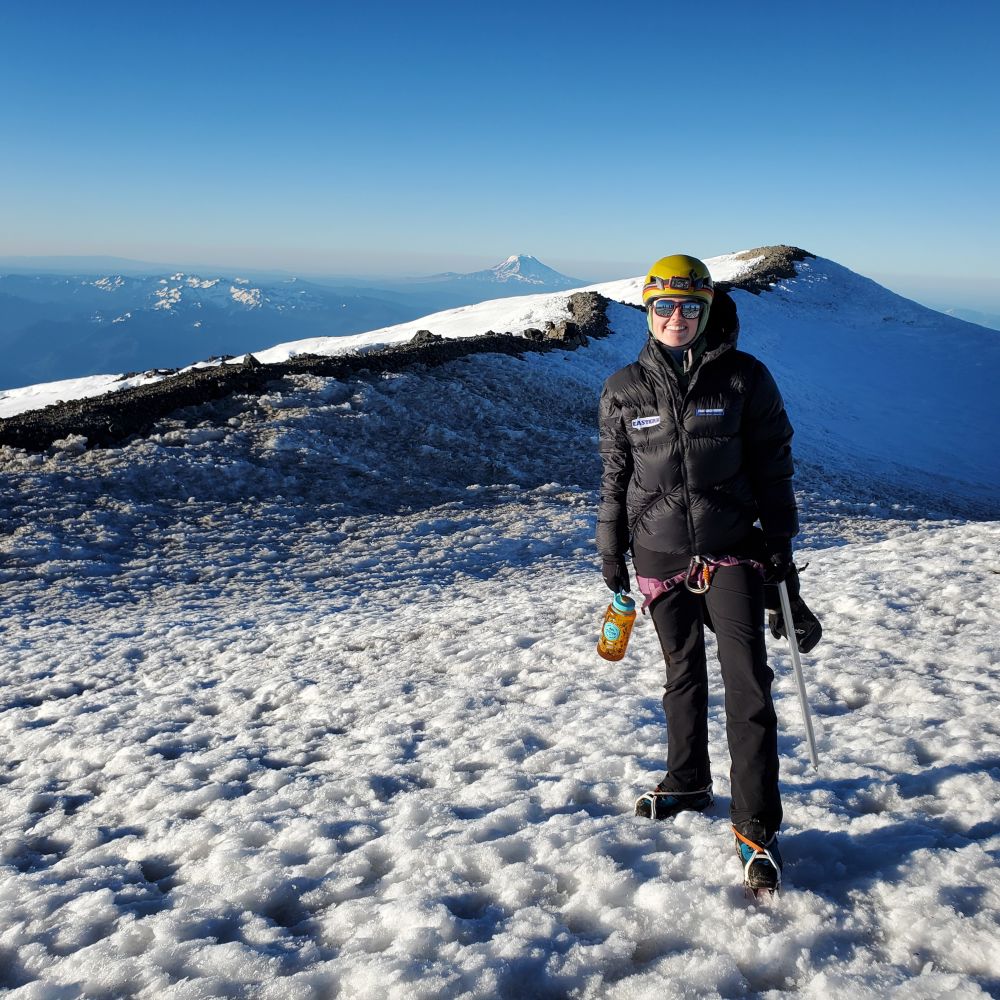 Mountaineer Conquers Clean Air Challenge for Lung Health
Climber shares her experience ascending Mt. Rainier to raise money for the American Lung Association
Sign Up for Can-Do Journal Updates
This is a continuation of a story that began in March as Christina Cozzens shared her plans with the Propane Education & Research Council to scale 14,000-foot Mt. Rainier in Washington state in June.
The climb was a part of the American Lung Association's 2021 Climb for Clean Air Challenge that raises funds to eradicate lung disease and promote healthier air.
Here, Christina shares memorable moments, climbing advice for newbies, and what she plans to do next.
What was on your packing list?
In addition to the usual list of essentials for overnight hikes, this climb brought new challenges with technical gear I haven't used before. Some of those things include a harness, helmet, and mountaineering boots. While I have used an ice axe and crampons on some winter hikes in New Hampshire before (most often above tree line on Mount Washington), I have not had the opportunity to travel roped-up before this climb. We used ropes to be safer crossing crevasses and icy slopes. If one of us fell (which thankfully we didn't), the ropes would have allowed the rest of the team to catch the climber who fell before falling into a crevasse or losing traction and slipping down the mountain.
What was the most challenging part of climbing Mt. Rainier?
Since the heat wave was in full swing when we were there, everything was melting quickly. Because of this, our guides woke us up at 11 p.m. at Camp Muir to start our summit attempt — only eight hours after arriving. We pushed to gain the entire 9,000 feet of elevation in under 24 hours, which was tough on the legs, especially with so much heavy gear!
What was the most rewarding part of climbing Mt. Rainier?
The most rewarding part was learning that our team had raised almost $400,000 for lung health and COVID research — that is SO awesome!!!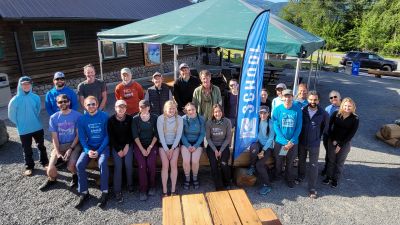 Share a memorable moment from your climb.
A memorable moment was being led by Win Whittaker. The Whittaker family created RMI guides and a lot of the guiding infrastructure for Mount Rainier. Some of the Whittaker family also notably were the first Americans to summit Mt. Everest. It was cool to have Win lead us up the mountain where his family has made such huge strides in the mountaineering world.
What was most interesting/different about climbing a glacier?
Definitely the crevasses. I hoped to be able to cross a crevasse on a ladder, and there was one that was put across near the summit just a couple days before we made our summit push. It was such a humbling experience to be looking hundreds of feet down into a blue abyss!
How cold did it get on your climb? 
We were climbing during the heat wave in Washington, so on the day we made our summit push, the freezing level was over 18,000 feet — a new record! The guides were really worried about ice melt above us … to the point where they were contemplating if we should try to summit or not. That is why we got up super early.
How did you combat altitude sickness and risk of malnourishment during the climb?
I brought Diamox, a drug that is proven to help with altitude sickness and something that I took on Mount Whitney in 2020. However, when I got there, Win Whittaker suggested not taking Diamox since it is a diuretic and it could be dehydrating. Instead, he taught us a breathing technique called pressure breathing. To my surprise, I only had a slight headache when we reached the top — going from 1,500 feet to 14,410 feet in just over 24 hours! Regarding malnourishment, since the trek was only a few days, the name of the game was calories. I remember Win coming into our bunkhouse at 11 p.m. to wake us up and saying to eat anything — even candy — to get calories into ourselves. Whatever seemed appetizing. I opted for oatmeal with protein powder and picked up some dried fruits and veggies at the market in Seattle a few days before.
Describe the views during the hike and at the top.
The views going up to Camp Muir were absolutely amazing. You could see several of the Pacific Northwest volcanoes along with several other snow-covered mountain ranges. When we got to Camp Muir, it was extremely windy so many of us hunkered down in our bunks. Since we got up at 11 p.m. to summit, it was dark for most of the summit push. However, you could still see some moonlit crevasses around. When we got to our final break on the way up, the sun was just starting to rise. It was the most beautiful sunrise I had ever seen because of the colors and feeling the sun's warmth on my cheeks after a cold and windy morning.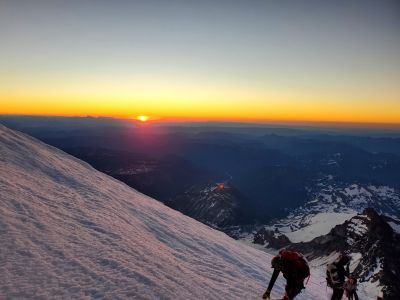 How long does it take to train for a climb like this? How experienced a climber do you have to be to attempt this climb?
I have been active for the few years leading up to my climb, but you don't need to be a marathoner! The pace is very slow since the oxygen is so sparce up there. There were people on our climb who had little to no hiking experience!
Did you use propane on your climb?
I did not end up taking propane because the guides provided hot water for us at Camp Muir; however, they did use propane to heat up everyone's water! The guides were telling us stories of how every time they ran out of propane at camp, they would have to carry these 70lb tanks up 4,000 feet strapped to their backs! They would also carry the empty ones back down so every time they had a group at camp, they could provide hot water for dinner and coffee!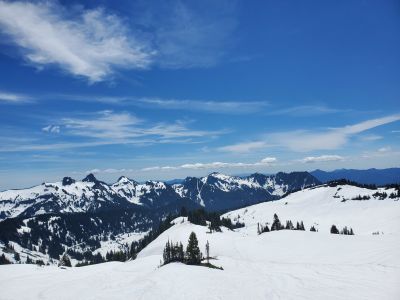 What are your plans for after you complete the climb? Is another climb not too far away, or will you take some time for rest?
I actually just got back from a short backpacking trip on the Long Trail in Vermont. In the future, I will be trying to give back on my local search and rescue team and going back to school for an MBA. However, I definitely will keep climbing. It is a life goal to climb Denali in Alaska someday. As far as what's around the corner … maybe Kilimanjaro?!
How does hiking help you maintain a healthy lifestyle? What other things do you implement in your life to live sustainable and healthily?
Hiking helps me maintain a healthy lifestyle because it is a fun way to stay fit. I lose interest in running and going to the gym quickly, so it is a great way to keep things different and interesting all the time! I also try to do yoga, volunteer guide hikes in the Whites, and minimize my personal carbon footprint as best I can. That is why I love my propane stove and fireplace!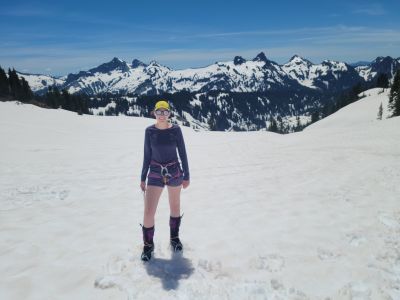 Share your top five tips/advice for people starting their own climbing journey. 
Have fun and enjoy the journey! This is a journey of self-discovery and self-care. The views are just the icing on top!
Don't be too hard on yourself. It takes some time to get used to the physical and mental aspects that go along with hiking and climbing. Allow your body to rest and make sure to listen to it when it needs something.
Be prepared. Rescuers will use what is in your pack to save you – make sure you have what you need in the situations you put yourself in.
Get involved. One of the best ways to learn is to get involved in clubs or groups in your area. Become a member of a mountain club, do trail maintenance, join a hiking buddies Facebook group. Whatever it is, surround yourself with people you can learn from.
DIY/used gear when you can. Hiking and climbing can be expensive — to the point where it can be excluding to some people. It doesn't have to be! Check out gear consignment shops, see if you can borrow/rent gear before you buy, make what you can, and don't buy stuff without a good deal/coupon.