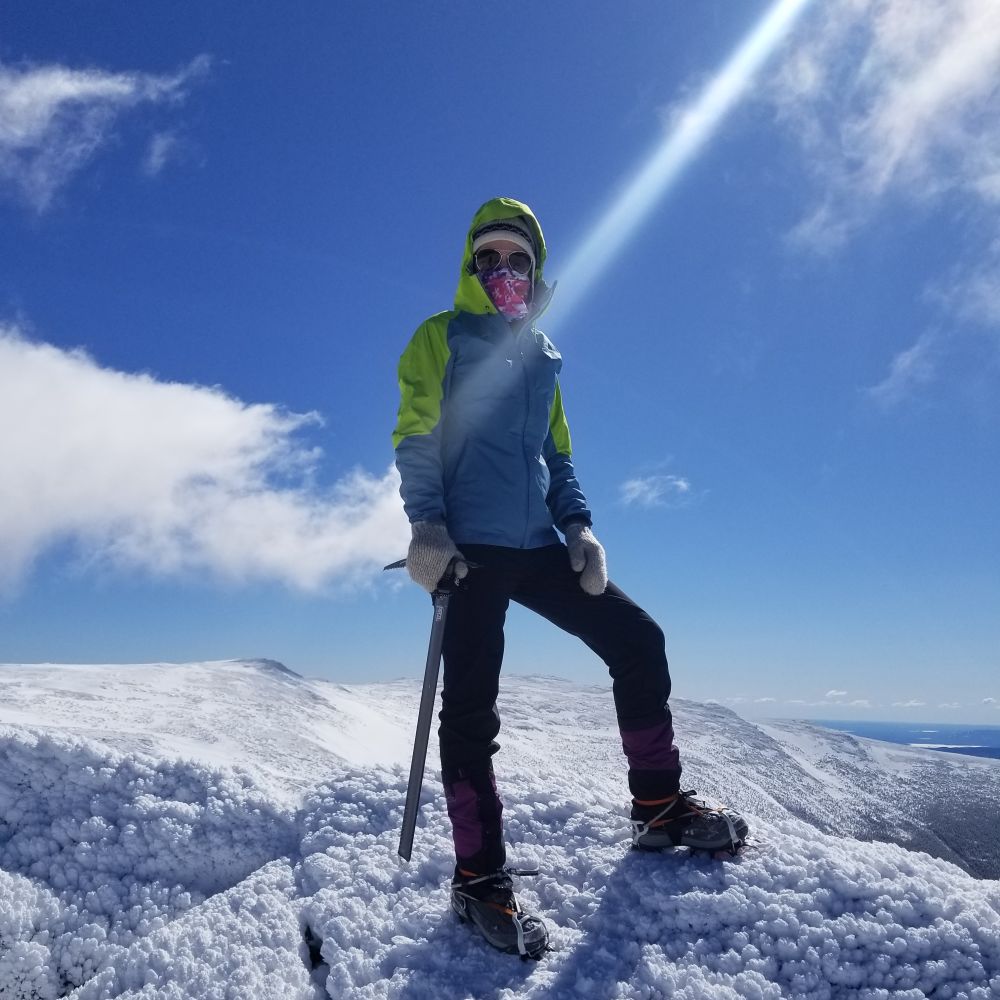 Mountaineer Commits to Clean Air Challenge for Lung Health
Climber prepares to ascend Mt. Rainier to raise money for the American Lung Association
Sign Up for Can-Do Journal Updates
Christina Cozzens isn't easily deterred. At least that's what she's learned about herself while conquering Mt. Whitney, the Grand Canyon, and numerous solo hikes spanning hundreds of miles across the U.S. Now, she has a new challenge in her sights: 14,000 foot Mt. Rainier in Washington state as part of the American Lung Association's 2021 Climb for Clean Air Challenge this June.
The Propane Education & Research Council is following along as Christina joins in the fight to eradicate lung disease and promote healthier air while learning to push past her personal limits and soar to new heights.
What started your interest in climbing?
I had a neighbor several years ago that hiked 500 miles of the Appalachian Trail when she was 60 years old. I would sit outside of her house and talk with her regularly about independence, the importance of enjoying life, and pursuing goals even though they seemed to be far-reaching.
During that time, I had made the decision to hike the Appalachian Trail, but I found out soon after that my dog had a life-threatening condition. So those plans were tabled. I decided if I wasn't able to purse a thru-hike on the AT yet, I wanted to hike the New Hampshire 4,000 mountains. That is where it all started, and I am still good friends with that woman today. She has taught me more about independence, confidence, and appreciation than I think I ever could have learned without meeting her.
What are some of your biggest climbs so far?
Some of my biggest and most memorable climbs so far are the Grand Canyon, Mt. Whitney (the highest mountain in the contiguous U.S.), 100 miles of the Long Trail, and several smaller hikes in the White Mountains such as a solo Pemigewasset Loop and a solo Christmas day summit of Mount Washington.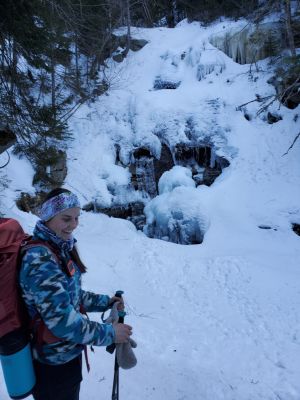 What's your most memorable climbing experience and why?
I recently became very socked in the clouds in the Southern Presidential range (New Hampshire), and I was "guiding" my friend that came with me. It can be very disorienting having the environment around you white from clouds and the ground white from snow with no trees around to mark the trail. We came across four men who seemed to be lost, and they ended up following us out of the clouds — relying on a young female to get them out of that situation. That was pretty cool.
Another memorable climb would be my solo Pemigewasset Loop. The loop is around 35 miles, and I attempted it probably much earlier than I should have (before I had learned much about hiking or the White Mountains). I ended up hurting my knee half-way through, but I pushed through another 12 miles to finish the hike. That was one of the most powerful moments I have had in the mountains — relying on myself and what is on my back for 3 days, 35 miles, 10,000+ft of elevation gain, and 10 four-thousand footers. From that point on I had a new confidence and appreciation for the woods, and it made me want to show other people (women specifically) how much confidence they can gain from something like that.
How do you use propane on your climbs?
My backpacking stove's IsoPro fuel is an 80/20 mix of isobutane and propane. It allows me to heat up lunch on a long, cold day. I can also melt snow into more water to drink on the trail. Another cool trick that I use when sleeping in cold temperatures is to heat up some water and pour it into a Nalgene water bottle to sleep with! It is like a little heater in my sleeping bag, and it wouldn't be possible without my propane fuel and stove!
Christina Cozzens backpacking stove with propane.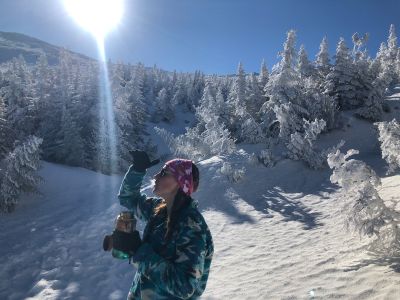 How do you use propane at home?
I can get cozy in front of the propane fireplace with my dog when temperatures get really low. I also have a propane gas stove to cook food on and stay nourished for long training hikes. One of the first things I do in the early morning before a cold hike is put some water on the stove to heat up. It will be poured into my insulated water bottle so it doesn't freeze throughout the day!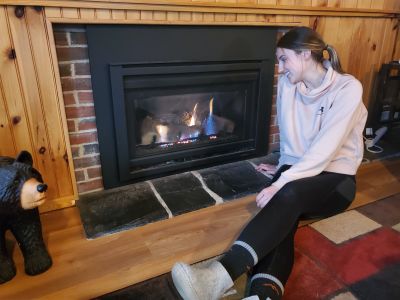 How does propane fit in with your environmental values?
I really appreciate how propane is a cleaner fuel than other options. It is important to me to keep natural places clean so we can continue to enjoy them for years to come.
Why did you choose to do the American Lung Association's 2021 Climb for Clean Air Challenge?
When I was looking for a guiding company to climb Mt. Rainier, a past alumni of Climb for Clean Air made me aware of the program through a women's climbing Facebook group. When looking into it and thinking about everything that the world has gone through in the past year with COVID-19, it seemed like a no brainer! What a cool initiative to be able to do something I really want to do and raise money for lung health and COVID-19 research at the same time!
Why did you choose Mt. Rainier for the Clean Air Challenge?
Mt. Rainier, as the most glaciated peak in the contiguous United States, was already on my list to climb after summiting the tallest peak in the contiguous United States (Mt. Whitney – 14,508') last year. I hope that these can act as training climbs to bigger mountains in the future. My goals include Kilimanjaro in Tanzania and, eventually, Denali in Alaska.
What are you looking forward to the most about climbing Mt. Rainier, and what difficulties does a climb like this present?
I am looking forward to learning glacier travel and rope skills needed in larger climbs and goals that I have. I am also excited to make friends in our climbing group. That little sense of community, where everyone has each other's (essentially strangers at the time) back. Most of all, I am looking forward to seeing the sun rise from the side of a glacier!
Difficulties on this climb will include several different things. To name a few, the elevation can pose a risk, especially for people living closer to sea-level. Ascending to 14,000+ft in a few days can be really dangerous if not done correctly, and altitude sickness can become a worry. With this, hydration and nourishment can also become a problem. It is important to stay extremely hydrated all the time at this altitude, which can be difficult at night when sleeping. Eating also becomes less interesting at this height, which can pose a risk for malnourishment. Of course, the exertion to get up the mountain is a challenge, but this becomes even more difficult after several days of exhaustion and only having 60 percent of the oxygen available to breathe compared to sea-level. Cardio is going to be incredibly important for me over the next few months to train for the climb.
Donate to Christina's climb and help people with lung disease.