Helping Kids Learn About Propane Farm Safety
Helping Kids Learn About Propane Farm Safety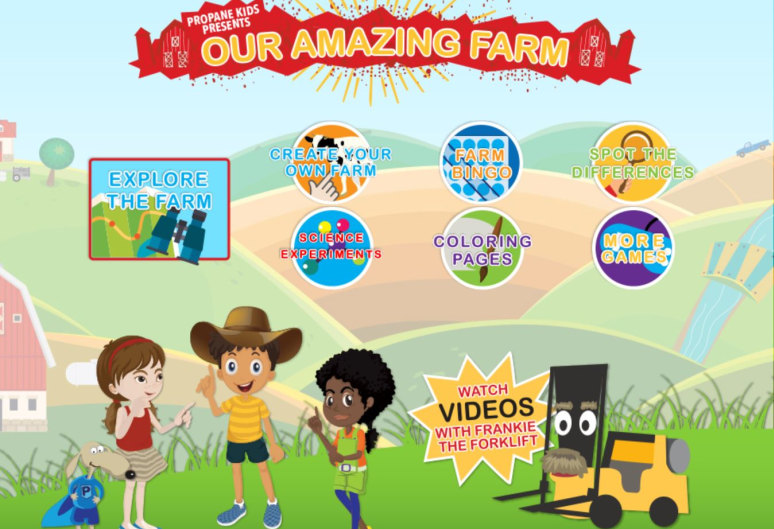 Helping Kids Learn About Propane Farm Safety
Helping Kids Learn About Propane Farm Safety
PropaneKids.com has games, science experiments, and coloring pages.
Helping Kids Learn About Propane Farm Safety
Sign Up for Can-Do Journal Updates
When life hands you lemons, you create your own farm. OK, maybe that's not how the saying goes, but that's just one of the games that thousands of children and their parents are playing on PropaneKids.com, while hunkered down at home. 
PropaneKids.com has a variety of games, activities, science experiments, and downloadable coloring pages for pre-school to late elementary school age children to learn about propane safety with a focus on the farm. 
During a time when parents are seeking engaging learning resources for their kids, we wanted to bring this content to as many people as possible, so we partnered with seven farm families across the county who have large social media followings with which to share this resource. 
These farm families rely on propane to power their operations and/or their home, and so they were able to share real examples of using PropaneKids.com to teach their kids about propane safety on the farm. 
Many also shared how they use propane to power certain appliances like a porch fire pit, and for fueling vehicles. And still others learned about its clean energy benefits and how they can feel good about contributing to a healthier environment while using the fuel. 
Here is a snapshot of one post and its comments: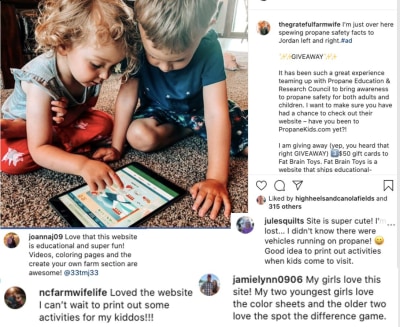 Thank you to all of the farm families who partnered with us to share a great resource for families:  
White Cottage Farm — Jose Galvan and his wife, Liz Marie 
The Peterson Farm Brothers — Greg, Nathan, and Kendal Peterson 
Faith Family & Beef — Terryn Drieling 
The Kovariks — Natalie Kovarik 
New Mexico Milkmaid — Tara Vander Dussen 
The Grateful Farm Wife — Kylie Epperson 
Farm Wife Guru — Whitney Larson