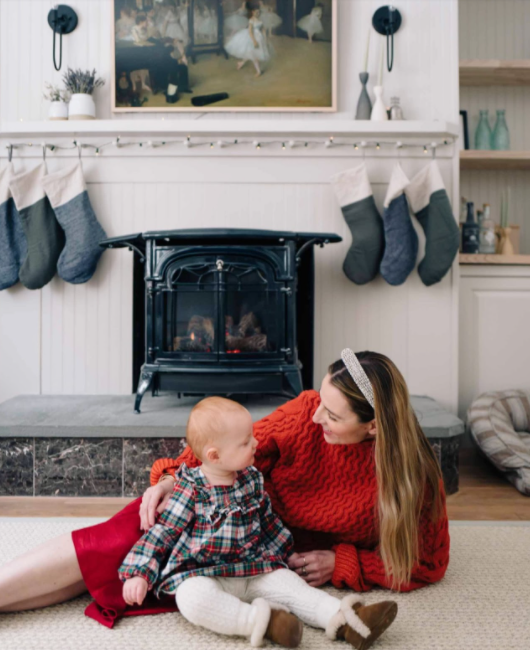 Fashion Blogger and Sustainability Champion – Meet Jess Ann Kirby!
New England blogger personifies how fashion and environmental responsibility go hand in hand.
Sign Up for Can-Do Journal Updates
From leaving corporate America to become a blogger to taking on a fixer-upper house, Jess Ann Kirby has been chasing her dreams with her family by her side. The Propane Education & Research Council has partnered with her to follow along on her journey towards a sustainable, environmentally-conscious lifestyle.
Tell us a little bit about you and what you do.
I'm a born-and-raised New Englander, currently splitting my time between Rhode Island and Vermont. My partner and I have a 1-year-old daughter, and a rescue dog and cat. I'm a lifestyle blogger focused on sustainable living, slow fashion, clean beauty, and wellness.
What inspired you to start a blog?
I was really struggling with a lack of passion and purpose in my consulting job. We were living in NYC at the time, and I was so burnt out on working a traditional 9-5. I started my blog as a creative outlet and a way to try and get a job in the fashion industry (I was working in corporate HR consulting). It really just grew from there and I ended up quitting my job to blog full time.
You recently purchased a fixer upper home – tell us about your plans for renovations and what made your family decide that was something you wanted to do?
Our first home was a fixer upper and over the last three years we put a lot of work into renovating it. We always wanted to buy a second home in Vermont and this fall that became a reality. This house needs a lot of work; we've already renovated the kitchen and the bathrooms, and are going through each room and giving them a facelift. This summer we will probably try to tackle the outside which needs to be completely re-done.
What are some of the main benefits of using propane in your home?
Both our fireplace and generator run on propane, so it gives us huge peace of mind knowing we will always have access to heat and power, especially living in a place with extreme cold and sometimes extreme weather. Our propane fireplace is so easy to use and heats our entire house, which is great for the long winter we have here in Vermont.
What are some of the ways you and your family work towards living a sustainable and environmentally-friendly lifestyle?
We try to incorporate sustainability into every aspect of our life from the food we eat to the clothes we wear and renovations we do. We always try to minimize consumption, reduce, reuse, and recycle. We became vegetarians, have solar panels on our roof in one of our homes, and are always looking for the most eco-conscious, sustainable option.
You've shared that one of your daily habits to live sustainably is to educate yourself about the green practices of the companies that you choose to support. What did you learn about propane that made you want to partner with the Propane Education & Research Council?
I learned that propane produces fewer greenhouse gas emissions than electricity and that it doesn't contaminate soil or groundwater.
Your family lives in New England – what are some of the reasons you all love living there?
We LOVE having four seasons (though spring is increasingly abbreviated). It gives us such a greater appreciation for what each season gives us; we are always outdoors and New England has incredible landscapes. From the mountains to the ocean, there is always somewhere beautiful to explore.
What are some of your favorite things to do as a family?
We love to go for walks and hikes in the woods or at the beach. Surfing in the summer and snowboarding in the winter. Whatever we can do outdoors as a family is fun for all of us.