Using the Volkswagen Mitigation Trust Fund
Using the Volkswagen Mitigation Trust Fund
Why Propane Autogas is RIght For Fleets
Propane autogas school buses are proven to be the most cost-effective solution for reducing NOx, tailpipe emissions, and total cost-of-ownership.
---
reduce MORE emissions
In a real-world study conducted by West Virginia University, propane autogas buses were found to cut 96 percent more NOx emissions compared with clean diesel buses.
Source: 2018 West Virginia University Center for Alternative Fuels Engines and Emissions study comparing 2015 LPG Blue Bird school bus (6.8L, 10 Cylinder) with 2014 ultra-low sulfur diesel Blue Bird school bus (6.7L, 6 Cylinder).
---
 the cost-effective solution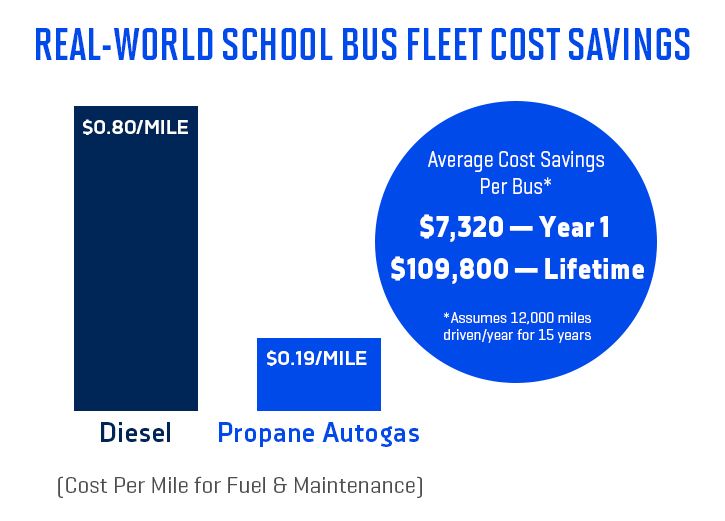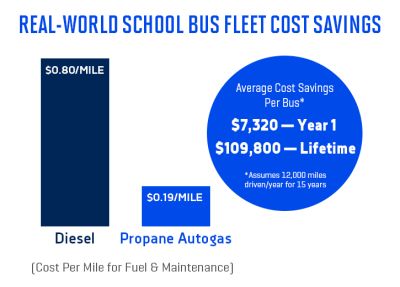 save on fuel & maintenance
Propane autogas saves more with every mile. Compared with the cleanest diesel bus on the market, propane autogas is 93 percent more cost-effective, costing only $0.19 per mile compared with diesel at $0.80 per mile.
Source: This information comes from Roush CleanTech.
---
Resources for Getting Started
---
Calculate NOx Reductions Accurately
The most accurate tool to calculate emissions reductions from propane autogas is the AFLEET HDV Emissions Calculator. Compared to the EPA's Diesel Emissions Quantifier tool, the AFLEET calculator:
Provides more detail and user definitions.
Integrates state-specific alternative fuel engine data, idle rates, and emissions factors (instead of using national levels).
Accounts for in-use NOx emissions.
Learn more about the available emissions tools and why using the AFLEET HDV Emissions Calculator will provide the best results.
Get started calculating NOx reductions with the AFLEET tool.
---
available mitigation funds by state
The steps for submitting your application for funds vary by state. For details on how to get started, hover over your state to learn more, or view information on all states.