Propane Provides California Builder With Efficient, Affordable Home Solution
Propane Provides California Builder With Efficient, Affordable Home Solution
Propane Provides California Builder With Efficient, Affordable Home Solution
Propane Provides California Builder With Efficient, Affordable Home Solution
California
PROPANE BECOME INTEGRAL PART OF CALIFORNIA SUSTAINABILITY EFFORTS
MODULAR LIFESTYLES, INC, a home dealer and builder in California, specializes in tiny house and modular home construction. Committed to providing quality, affordable housing that's both energy efficient and environmentally friendly, Modular Lifestyles is considered the leader in the state of California for both on- and off-the-grid factory-built housing. In fact, the products produced by Modular Lifestyles have been endorsed by the U.S. Department of Energy as zero \ energy ready homes. While site builds, or "stick builds," are a well-known, favored approach to home building, factory-built housing has become a more popular practice in recent years Factory-built homes offer a solution for a growing segment of the population wanting an affordable path to homeownership. It's especially catching on in areas where residents' income can't keep pace with the housing stock prices, and where the public interest in green building and zero net energy performance is high.
THE GOLDEN STATE'S HOUSING CHALLENGES – AND SUBSEQUENT OPPORTUNITIES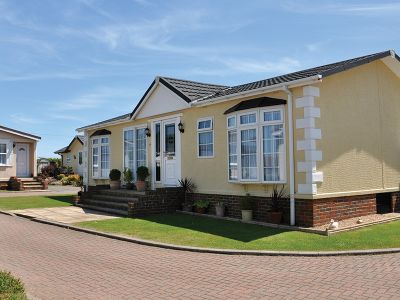 Housing affordability is one of several challenges in the housing market in the state of California. The high cost of living becomes increasingly problematic for baby boomers, specifically, as they become eligible for social security and their rent or mortgage payments outweigh their social security checks. The California wildfires pose another challenge, displacing tens of thousands of people from their homes after burning across the state. An extremely competitive and pricey housing market makes it challenging for residents to find or rebuild new housing. Further, as construction professionals approach upcoming building projects, it's important to be cognizant of environmental standards laid out by the California Energy Commission. California, known to set the pace for environmental regulation, will require more stringent home building practices as of Jan. 1, 2020. Aiming to cut energy use in new homes by more than 50 percent, building standards will require solar photovoltaic systems in home builds starting in 2020. The state's ambitious goals for the development of zero net energy buildings will make them the first in the nation to require solar in residential construction. While high performance homes often come with a higher price tag, builders in California are working to combat that by meeting the state standards as cost-effectively as possible. One way of doing so is by incorporating propane into their building strategy.
MODULAR LIFESTYLES DISCOVERS A SOLUTION COMBINING PROPANE WITH RENEWABLES
As Modular Lifestyles, like many other California home builders, works to meet the increasing demand of the housing industry in a timely, affordable manner, they found a solution with propane. Renewable energy systems — like solar or wind — are often combined with a high efficiency propane tankless water heater to help offset all or most of the homes' annual energy consumption. High-efficiency propane tankless water heaters are incredibly efficient and don't require any infrastructure, making them a valuable addition to builders' strategies. Modular Lifestyles' factory-built homes are energy efficient, affordable, ADA-compliant — addressing the challenges California residents have been up against in recent years. Plus, they can be built quicker, supplying replacement housing for those displaced from wildfires much faster than site-built homes.
HOME SOLUTION PROPELS BUILDERS TOWARD BUSINESS GROWTH
Between June 2017 and November 2018, Lefler had built more than 75 zero net energy modular homes designed with solar/battery and a high-efficiency propane tankless water heater. And sales continue to grow. Not only do Modular Lifestyles' homes have an affordable purchase price of $75,000, but its average customer needs only 20 gallons of propane per year. Discovering these home solutions has allowed Lefler to reach untapped markets and new customers. Pairing a renewable energy system with propane — a portable, resilient fuel — has proven to be a solution for this growing market. Further, it's a solution that allows builders to keep their product offering within the tightening state restrictions that California is placing upon new home builds. In addition to high-efficiency propane tankless water heaters, propane can power several other home applications, helping builders work toward their energy efficient goals and practices. These appliances include, but are not limited to, backup generators, fireplaces, cooking equipment, furnaces, boilers, and clothes dryers. Installing high-efficiency propane appliances significantly reduces a home's total energy consumption, helping builders meet IECC, zero net energy, and other above-code standards.