Trump Lawn and Land Company Case Study
Trump Lawn and Land Company Case Study
Trump Lawn and Land Company Case Study
Trump Lawn and Land Company Case Study
Trump Lawn and Land sells story of sustainability.
Trump Lawn and Land Company
Overview
company
Trump Lawn and Land Company Case Study — York, Pa.
Mike Trump, owner of Trump Lawn and Land Company, has run a successful family owned-and-operated full-service landscaping business serving York, Pennsylvania, since 2000. The company primarily serves residential customers, although they also work with homeowner's associations and commercial businesses. Philip Trump, director of sales and marketing, says Mike, his son, has been focused on incorporating sustainable practices and environmental awareness into the business since it was started, so it was only a matter of time before propane became a consideration to replace the company's gasoline mowers.
CHALLENGE & SOLUTION
Trump Lawn and Land started its full-service landscaping company in 2000. The company primarily serves a residential market in and around York, Pennsylvania. Adding clean propane in 2012 helped the company separate itself from competition with sustainable lawn care.
RESULTS
Propane complements the company's sustainable focus.
The company has seen nearly 40 percent in savings on fuel and maintenance costs after implementing propane equipment.
Customers are pleased with the environmental benefits of propane.
---
Details
A SMOOTH TRANSITION TO PROPANE
Mike transitioned all ten of the company's Exmark mowers in his fleet to dedicated propane machines in 2012. Trump Lawn and Land already used high-efficiency diesel trucks to transport crews and equipment, and offered customers the option of organic lawn applications. He had seen an article in late 2011 about the advantages of propane mowers in an online magazine, and then searched for propane models produced by Exmark, which Mike already operated. It happened that around the same time the company's equipment dealer, R.S. Hollinger, held a winter meeting with several members of the Propane Education & Research Council to discuss propane mowers.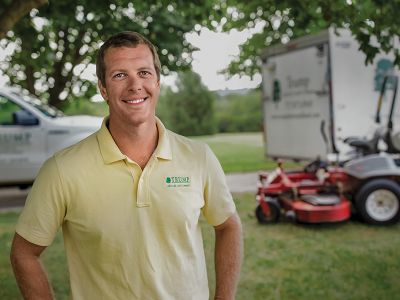 At the meeting, Mike learned about the advantages of propane for landscape contractors. Propane produces fewer greenhouse gas and carbon monoxide emissions than diesel or gasoline, and it's a domestic fuel, too — almost 90 percent of propane consumed in the U.S. is produced in North America. Propane mowers operate using a closed-loop fueling system, so there's no risk of spilling fuel on customers' lawns, walkways, or streets. Refueling is easier than with gasoline or diesel, too. Propane fuel cylinders are easily stored onsite at the company's home office in a cabinet refueled three times a week by their propane retailer, Shipley Energy, which means there are no unnecessary trips to the gas station for crews needing to fill up gasoline mowers — wasting precious time (and money) for the company.
The transition to the new fuel source was an easy one for the company and its crew.
"Our operators adapted quickly," Philip says. "It was a very quick transition."
Trump Lawn and Land employees received training in refueling and safety from both Exmark representatives and their dealer at R.S. Hollinger. They also did training with Pennsylvania's Department of Transportation on transporting spare cylinders on vehicles. In total, it only took a couple hours to get the company's 33 employees trained.
SAVINGS ARE "ICING ON THE CAKE"
Because of the company's focus on sustainability, environmental benefits were the main reason Mike made the switch to propane.
"The cost savings were kind of like icing on the cake," Philip says.
"Our operators adapted quickly. It was a very quick transition."

Philip Trump

Director of Sales and Marketing
Since transitioning to 10 propane mowers, the company saves approximately $7,000 annually, consisting of reduced fuel costs and reduced maintenance costs. Propane burns clean and carbon doesn't build up as quickly inside an engine system, which extends the life of the engine. Trump also saves dollars by having cylinder storage on-site, eliminating the need for operators to spend time refilling gas containers. Now, when operators arrive each morning, they only need to load one extra cylinder onto a truck and head to the job site.
Philip says, in total, it's around a 38 percent savings for his operation budget compared to using gasoline mowers. The company is currently operating on its second set of 10 propane mowers, and were also able to take advantage of the Propane Mower Incentive Program offered by PERC. The program, when available, offers a rebate of $1,000 for the purchase of a dedicated propane mower, or a $500 rebate for a conversion kit to transition a gasoline mower to propane.
CUSTOMERS SEE VALUE IN SUSTAINABILITY
Contractors in Pennsylvania don't have to work around emissions restrictions or ozone action days present in other parts of the country. Although the state has a growing number of contractors using propane equipment, particularly around Philadelphia, Trump Lawn and Land is one of just a few companies running the alternative fuel in York County. But Philip says using propane has become an important part of the company's story.
"Our customers appreciate the environmental aspects," he says.
Sustainability is a message that resonates with the company's customers, one more way the company creates an enjoyable outdoor experience in every yard. For homeowners, propane won't leave puddles, fumes, or smoke containing harmful chemicals near children or pets. For commercial customers, the clean fuel creates a better image for their brand, as well.
Philip says the company calls attention to their propane use and sustainability efforts in their marketing. At trade shows and events, they display a poster with the advantages of propane. And even to their competition: "We would highly recommend propane mowers," Philip says.