Russo Lawn & Landscape Case Study
Russo Lawn & Landscape Case Study
Russo Lawn & Landscape Case Study
Russo Lawn & Landscape Case Study
Propane-powered mowers solve costly fuel issues for Connecticut landscape company.
Russo Lawn & Landscape
Overview
COMPANY
Russo Lawn & Landscape — Windsor Locks, Conn.
Russo Lawn & Landscape in Windsor Locks, Conn., is a family-owned, commercial landscape company. Established in 1990, Russo has grown into a large-scale operation, employing up to 80 employees during peak summer months and running a fleet of 50 mowers. The company also operates year-round, serving clients with mowing and landscaping services in the spring, summer, and fall and snow removal in the winter.
CHALLENGE & SOLUTION
Russo's year-round business model requires the company to store equipment and fuel in the off-season. After experiencing fuel degradation problems and rising gasoline prices, the company decided to research propane.
RESULTs
The company experienced 50 percent fuel savings after transitioning to propane and no fuel degradation issues.
Mower operators found better performance, including increased horsepower and ground speed with the propane mowers.
Crews saved a significant amount of time by not having to refuel at the gas station each morning and performing a quick cylinder exchange rather than filling a gasoline tank.
---
Details
While Russo Account Manager Kevin Salters is thankful for four-season business, relying solely on gasoline-fueled equipment began to pose winter storage issues and put a dent in the company's bottom line. In 2012 he began looking for a more cost-effective solution.
BUILDING A BUSINESS CASE
Russo's main objective was finding a fuel that wouldn't degrade during winter storage or cause carburetor problems after sitting in a mower's engine for too long. After evaluating the risks of wasting gasoline or ruining an engine, Salters began researching propane-powered mowers.
"I definitely did my research calling on competitors, colleagues, and mechanics who've been running it, and they only had good things to say," Salters explained. "I realized the efficiency propane could offer when we started paying more than $4 a gallon for gasoline."
"I realized the efficiency propane could offer when we started paying more than $4 a gallon for gasoline."

Kevin Salters

Account Manager
Propane's clean carbon footprint added another strong advantage to the fuel's business case. The scales were officially tipped after Salters heard about a competitor dealing with the negative environmental repercussions of running gasoline.
"Somehow gasoline spilled near the air conditioning unit of a commercial facility in downtown Hartford," Salters explained. "Fumes were sucked into the building, causing an evacuation, because no one knew where they were coming from. Utilizing propane would have prevented the problem altogether."
"I had initially looked into propane for saving money, but after hearing about the air conditioning incident, I realized propane's benefits for air-quality control issues. Then propane became a business driver in my mind," said Salters.
FROM RESEARCH TO REALIZATION
Russo moved forward with propane models in April 2013 by adding six propane models to their 50-mower fleet. They noticed immediate benefits, including cost savings, reduced maintenance, and positive feedback from customers. With propane at 50 percent of the cost per gallon compared with gasoline, Russo saved a significant amount on their fuel bills. They also noticed some positive changes in maintaining their equipment.
"The number of oil changes we needed was much less. Usually we change the oil every two weeks, but with propane it's not necessary because it's such a clean fuel. We only change it every four weeks," said Salters.
Russo serves commercial customers, and while none of their current clients require propane, they appreciate the fuel's environmentally friendly profile.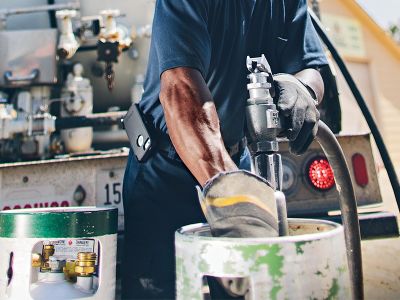 "The places we do mow with propane are extremely happy. We maintain lots of condos and homeowner's associations, and there are lots of individual residents following the green movement. They're happy to see this, and being as environmentally conscious as we are, we're more advanced than the guy behind us," Salters noted.
Labor savings was another major benefit of the transition. Russo participates in a cylinder exchange program. Because their propane retailer comes out twice a week to switch out empty tanks for full ones, Russo employees don't have to spend time refueling at the gas station every morning.
"All we sell are hours," explained Salters. "So wherever we save time, it goes to our bottom line. The efficiency of changing a propane tank rather than filling a mower with gas is way faster. It adds up to about an hour of savings per day."
Additionally, propane's closed fuel system eliminates theft. "Guys park their trailers in a parking lot on a 100-acre facility, and gasoline can easily be stolen. There's no chance of that with propane," Salters said.
DISPELLING PERFORMANCE MYTHS
At first, Russo employees had reservations about switching from gasoline to propane. They worried that performance would suffer, and they'd heard rumors that propane mowers don't start well.
"When the first mowers were distributed to the crews, there was a lot of hesitation," Salters said. "Now the three crews that operate the propane machines won't use gasoline anymore, and they promote these mowers to our other crews."
"We found increased horsepower and ground speed, and the mowers appeared to cut better and throw grass clippings further."

Kevin Salters
Four of Russo's six propane mowers were converted by a certified mechanic with MetroLawn kits. The other two are Exmark Lazer Z S-Series dedicated propane units featuring the Kohler EFI engine.
All six mowers have performed above expectations, said Salters. "We found increased horsepower and ground speed, and the mowers appeared to cut better and throw grass clippings further. The crews would be more upset now if we took the mowers away," he added.
With such a positive response from employees and increasing awareness among clients, Russo plans to continue converting and transitioning their current fleet.
The Propane Education & Research Council's (PERC) Propane Mower Incentive Program will assist with the upfront costs by providing $1,000 for each new OEM model and $500 for the company's qualified conversions.
"Being in this industry we feel we should do our part and reduce our carbon footprint and emissions," said Salters. "We are stewards of the green industry, so we'll continue our push of replacing mowers."