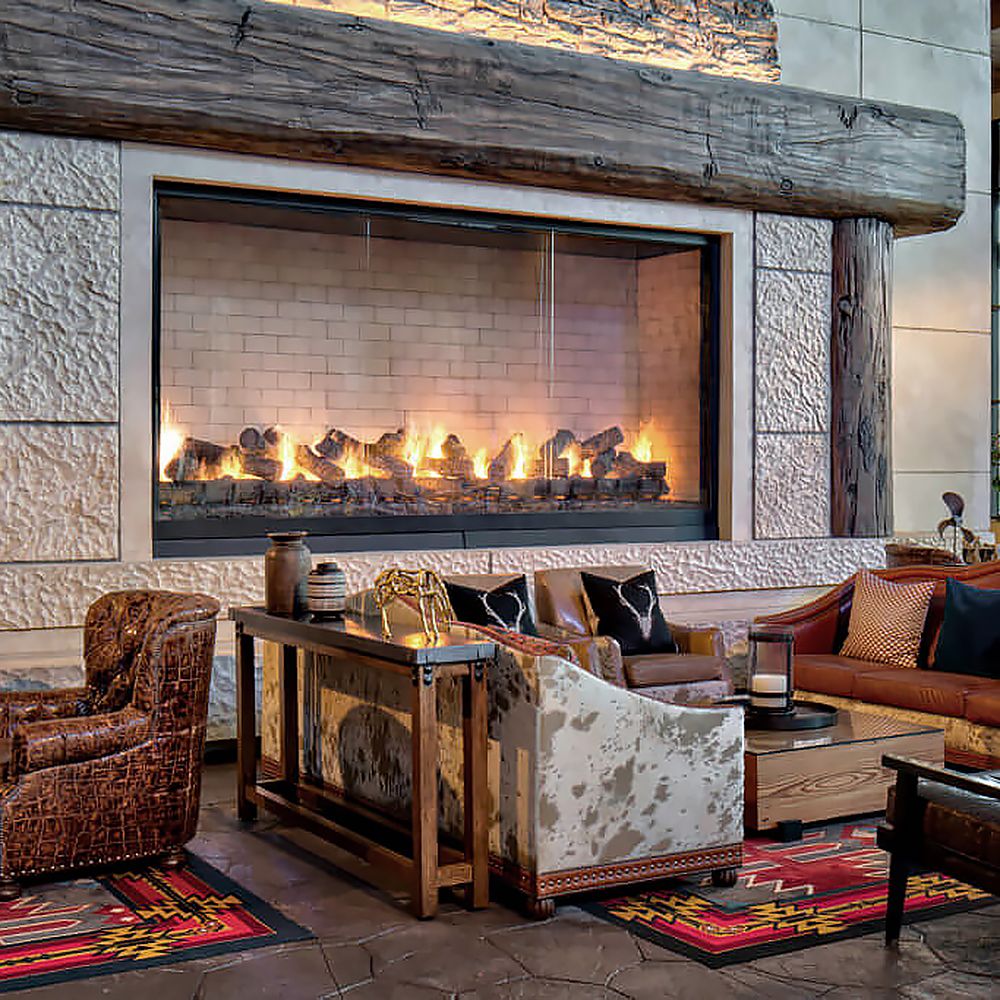 Commercial fireplaces get bigger and bolder
See how architects' ambitious designs are leading to stunning fire features that serve as eye-catching centerpieces.
The Podium event space in Elk River, Minnesota, has plenty of features that could catch a visitor's eye. Tall ceilings, lots of glass, and dozens of hunting trophies help to create a rustic yet modern ambience. Almost every visitor, however, comments on one unique feature: the custom panoramic propane fireplace.
"Everybody says the same thing: 'Man, that fireplace is killer,'" says co-owner Chris Carlson. "It's the highlight of the room."
Evolving from the modern, linear fireplace trend that was predominant over the past decade, today's commercial fireplaces are getting bigger and bolder to match architects' ambitious designs. And while hospitality projects are still a primary fireplace market, manufacturers are seeing their units enter new building categories.
Custom fireplace manufacturer Acucraft is seeing increasing demand in multifamily and commercial office buildings, as well as sports stadiums and even medical facilities. In some cases, the trends point back to the influence of COVID-19 and the return to the new normal.
"A lot of companies are trying to bring their employees back into the office setting and not have everybody be remote," says Missy Ramberg, marketing director for Acucraft. "So by adding these kind of different fireplaces or amenities, it's an enticement for people to come back to work and experience those types of things." As diners increasingly return, Acucraft CEO Chris Maxson says he's seeing a lot of restaurants remodeling with fireplaces to make their spaces feel cozy, relaxing, and safe.
Fireplaces with large viewing areas
Other commercial fireplace trends are design-driven. The most common trend is fireplaces with glass on multiple sides or even with open viewing areas and no glass at all.
"Anything that can provide an unobstructed view for people has grown in popularity, whether it's a circular or it's this big, four-sided glass fireplace," Ramberg says. "[Designers] really want to add something as a focal point but not take away and make it seem like the space is smaller."
The move to multisided fireplaces is frequently paired with another growing trend: taller fireplaces. After gas fireplaces evolved from the original square design into wider linear fireplaces for a contemporary look, today's fireplaces are expanding vertically with 6- to 8-foot-tall flames. "Architects are trying to make different statement pieces, and that's what's so cool about custom fireplaces, is that you're able to do something cool and different," Maxson says.
At custom fireplace manufacturer Montigo, marketing manager Roxane Leigh is also seeing plenty of tall, multisided glass fireplaces, with many designers specifying see-through, indoor-outdoor units. "Visitors can enjoy the fireplace in the living room or the lounge space and on the patio or their outdoor living space," she says.
Custom creations
Many architects see fireplaces as an opportunity to create wild designs to make their spaces truly unique, Leigh says. For the Beacon Health & Fitness building in Elkhart, Indiana, Montigo's retiring founder designed a 176-inch-tall version of its Tornado, a spinning cylindrical fire feature, in a triangle shape that sits in the corner of a glass atrium so it can be viewed from any angle. Many designers are also creating unique fire pits in triangle shapes; L shapes; or, as in one recent project, as three curved fireplaces forming a circle on a sports lounge patio.
Specifying a gas fireplace makes these units particularly easy to operate, Leigh says. "People like the convenience. You push a button, the fire's on; you push a button, the fire's off. You don't have to clean anything up."
With many of Acucraft's clients moving out of the city to find more space in the countryside, Maxson is seeing an increasing number of projects fueled by propane — about 20 percent of the company's installations. Acucraft custom-designed its propane burners with a different burner tube and orifice to maximize the fuel's unique properties, a step that doesn't have a major impact with smaller 20,000- to 30,000-Btu units but can make a big difference for large 150,000- to 200,000-Btu commercial fireplaces.
"A better flame for us is tall, slow-moving, and yellow and orange," Maxson says. "And so we were able to get these tall, lazy orange flames with propane. For us, propane has been one of our niches, and we love it."
Fireplaces are great at creating the immediate first impressions like Carlson has seen at The Podium, Maxson says. "Anybody who sees a fireplace, they're naturally drawn to that, so it's a great way to offer an amenity space, draw people in to make purchases, or bring people back to work."
Setting the right mood and creating a "wow" factor become even more important for businesses looking to create buzz through word of mouth and social sharing. "If it's going to be a spectacular fireplace," Leigh says, "then I'm going to be taking photographs and Instagramming, and it creates a moment for those people that are really in touch online and they want to share."
Top photo: A Montigo fireplace in the great room at the Gaylord Rockies Resort & Convention Center in Aurora, Colorado.