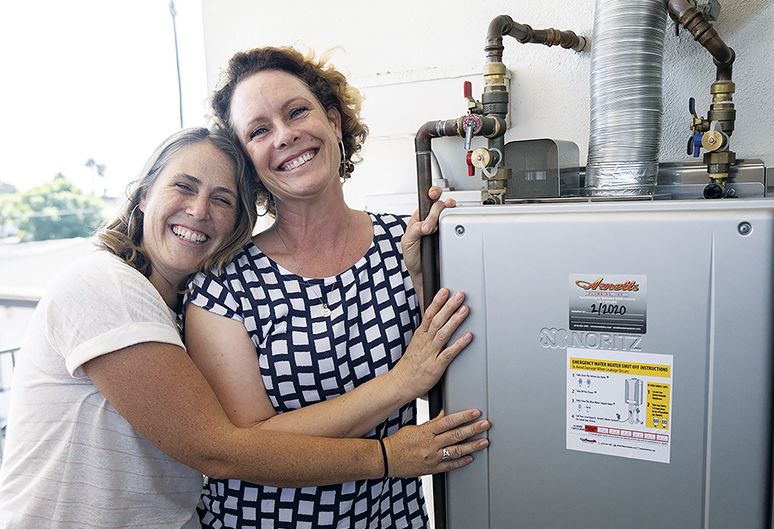 Midwives choose tankless water heaters
To provide gentle comfort, a birth and wellness center relies on the consistent hot-water output of a tankless unit.
At the Tourmaline Birth and Wellness Collective in San Diego's Pacific Beach, warm water is a key tool. The midwives at the birthing center use warm water in 100-gallon birthing tubs to provide gentle relief during labor. So when it came to choosing a water heater, the center's founders needed a water heater that could provide a high volume of hot water continuously, and at a consistently correct and comfortable temperature. Tankless water heaters were an ideal match, Andrew Tran writes in Plumbing & Mechanical Engineer.
"With a tank water heater, the center would likely run out of warm water in the middle of a birth, and Tourmaline would be helpless to do anything about it in the short term," he writes. Erik Arnett, owner of Arnett's Water Systems, a San Diego plumbing contractor, tells him: "The recovery time on a storage-tank water heater like that is hours once they are emptied. The baby won't wait for you to fill one of those tubs with hot water."
Arnett replaced the existing 50-gallon water heater with Noritz's EZ111, a high-efficiency (0.96 UEF) condensing unit with a capacity range of up to 11 gallons of hot water per minute. He was able to use the existing water supply lines, as well as the venting and gas line connections, helping to speed the tank-to-tankless switch.
The reliable and consistent hot water provides peace of mind for Allison Tartari, one of the founders of Tourmaline. "We don't use medicine for pain relief," she says. "Water is our biggest coping mechanism in the birth setting, and it really makes a critical difference. One mom was recently in the bathtub for hours, and I used a hand-held shower on her back the entire time to assist with providing relief and minimizing discomfort."
Check out our Ultimate Guide to Commercial Tankless Water Heating for more examples of the versatility of propane tankless water heating in commercial applications.
Top photo: Tourmaline's Josie Petrich (left) and Allison Tartari: "Our requirements were unique and potentially expensive," Tartari says. "Lots of clean water, an endless supply of hot water, and good water pressure."