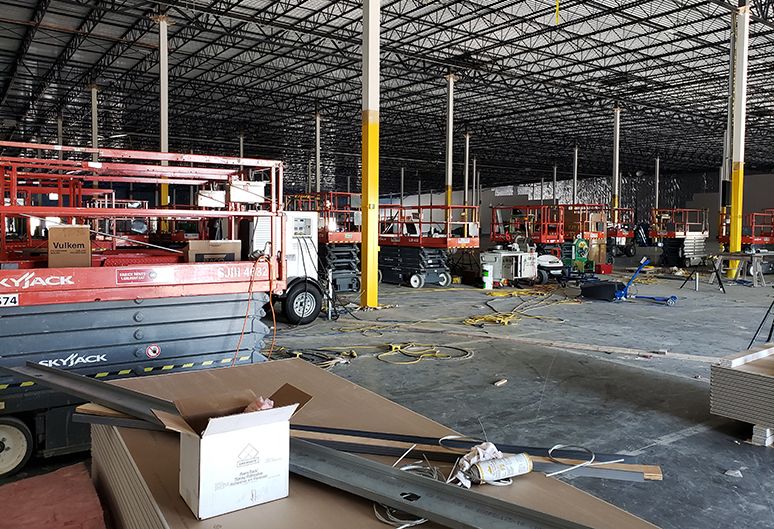 How to keep equipment powered on the jobsite
Mobile propane generators offer versatility, cost savings, and less fumes for crews on commercial construction sites big and small.
A massive construction site like the Hazelwood TradePort uses an immense number of scissor lefts. The 325-acre industrial business park project in Missouri has 40–50 electric lifts on site at any given time, and keeping all of them powered can give contractors a major headache. So Tim Riess' customer was thrilled when the rental company owner presented a novel solution: transform a JuiceBox mobile propane generator into a scissor lift charging station.
"There was no power on that project whatsoever," says Riess, co-owner of Patriot Rentals in St. Louis. "We took the generator out to the jobsite and they plugged in about 15 or 20 scissor lifts in this thing. It held up just fine. They even had two microwaves cooking Hot Pockets in the darn thing."
The project illustrates the variety of needs for mobile power on construction sites as well as the versatility and cost-effectiveness of propane generators. With construction crews needing to power equipment and job trailers on site, power is a necessity, and many projects don't have grid power set up before construction starts. Mobile propane units like the JuiceBox can provide 25 kW or more of power and connect to large propane storage tanks to avoid the need for constant refueling.
Chuck Justus, founder of Evergreen Mobile Power, manufacturer of the JuiceBox, recently spoke at the Mobile Power Generator for Commercial Applications webinar as part of the Propane Education & Research Council's Propane Presents Technology Series. Darrin Moorman, vice president of innovation and business development at generator manufacturer Moser Energy Systems, also spoke about the role of propane generators in providing resilience and emergency power.
The topic is relevant in the wake of severe weather and grid failures that left 4.5 million customers without power in Texas alone this past February. Propane helped to keep homes and businesses heated and powered, and mobile propane generators played a key role. And with large, in-person events finally returning as the economy recovers from the pandemic, businesses and organizations are looking for clean, affordable power solutions to power their outdoor operations.
Propane vs. diesel generator savings
For commercial contractors, cost savings are one of the primary factors to consider when selecting a mobile generator, and propane has the potential to provide major savings over diesel units. That was the case at TradePort, where Riess says his customer's fuel savings alone were "massive." The contractor also saw significant savings from being able to continue renting electric scissor lifts, which take up less space and are less expensive than lifts fueled by diesel or other fuels.
Clean-burning propane generators also provide health and safety benefits on the jobsite. "When they're in these office trailers, they're generally smelling diesel fumes all day," Riess says. With propane generators, contractors don't have to deal with diesel fuel or fumes. In fact, with no fumes, the TradePort contractors could run the propane generators right by the buildings to make it easier to charge the lifts.
Propane providers are also very familiar with construction site regulations and safety procedures due to extensive experience providing temporary heat on the jobsite, Justus notes. "That's what I love about propane," he says. "This isn't something I have to go figure out on my own."
Contractor friendly generator features
One of the JuiceBox's most compelling features is its ability to switch seamlessly between two internal propane tanks and external propane storage. As Justus highlights in a recent video, users can turn a switch to operate with an internal or external propane supply, or both, without having to purge the gas line or shut down the generator. On the jobsite, that means contractors could seamlessly move between a smaller propane cylinder and larger storage tanks, a feature that wouldn't be possible with diesel systems.
The JuiceBox features two interchangeable and removable electrical distribution panels to provide flexibility in how the power is used — hand tools on one side and powering a trailer on the other side, for example.
Given the success of the JuiceBox, Justus foresees other applications for propane-fueled equipment on the jobsite. The propane-powered Rover mobile light tower offers 480 watts of LED light with seven days of runtime from the on-board tanks, along with a power receptacle that can charge an extra power tool or sound system. A multi-tow system allows contractors to tow up to four of the units at a time around a jobsite, providing significant time savings for crews deploying light towers around a site.
Justus has received demand for other features such as a mobile Wi-Fi hotspot or mounting security cameras, so the Rover may continue to become more useful to commercial contractors in the future. "It's a really inexpensive piece of equipment, but one of the best things is running on propane," Justus says. "This thing is just rock solid, no spilling fuel all over the place — all the benefits of propane."