Architect's "streateries" rescue pandemic-era restaurants
Architect's "streateries" rescue pandemic-era restaurants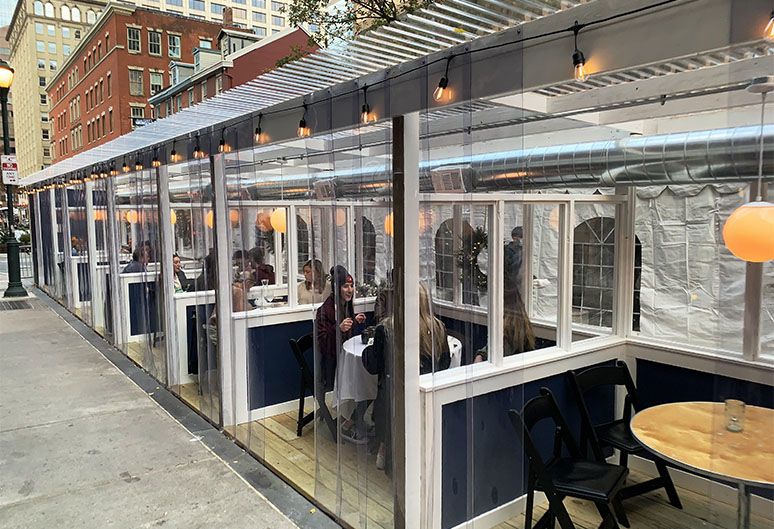 Architect's "streateries" rescue pandemic-era restaurants
Architect's "streateries" rescue pandemic-era restaurants
Outdoor dining structures offer cozy and conditioned spaces to attract diners at a critical time for the hospitality industry.
Architect
The winter of 2021 threatened to be a dark time for restaurants.
With strict limits or even shutdowns on indoor dining in many jurisdictions, restaurant owners saw an existential threat not only to their businesses but also to the livelihoods of their staff. But with the help of architects, some restaurants are fighting back.
"A lot of our standard restaurant clients came to us almost immediately and said, 'Hey, we need help with developing these outdoor dining structures. What can we do?'" says Jeffrey Dellaquila, project manager for Stokes Architecture + Design in Philadelphia.
The full-service architecture firm specializes in hospitality projects, and its clients had the opportunity to expand their outdoor dining into public space previously used for parking. So the restaurant owners turned to Stokes to design outdoor "streateries" that could attract customers during winter months that would normally have customers seeking a cozy indoor atmosphere.
"We knew from the very beginning these things need to be heated," Dellaquila says. "Because we were not only outside, but we were going into the fall and winter months, which is not only some downtime for a lot of restaurants, but on top of that, the pandemic was kind of a double whammy. So that was definitely a requirement from the get-go, for these things to be heated, conditioned, and protected from the rain and snow."
How to heat a streatery
In addition to comfort, the architects wanted to deliver an experience that was quick and easy to construct with readily available materials. The spaces also had to be adaptable to the aesthetic of the restaurant, becoming an extension of the restaurant's interior design vision. So the firm designed a series of semi-enclosed structures with partitioned stalls, each with a table serving one party at a time. Each stall has its own electric pendant light and a vent providing heat from a central condensing propane furnace.
"We wanted the diners to still feel like they're in their favorite restaurant but also maintaining those social distancing protocols," Dellaquila says.
The ducted heating solution met a variety of comfort and operational needs for the restaurant operators, Dellaquila says. Unlike portable, standalone patio heaters, the central heating system requires only a single source of fuel that can be swapped out on a regular schedule. Condensing propane furnaces are also an off-the-shelf technology that mechanical/engineering/plumbing subcontractors are very familiar with, making them easy to acquire and install at a time when traditional patio heaters are in high demand. The ducted heating also provides a consistent, efficient flow of heat.
"Each one of those little dining pods is still getting the same sort of conditioning output, from the one nearest to the heating unit to the one furthest from the heating unit," Dellaquila says. It was also easy to size each condensing furnace appropriately to the size of the streatery and without eating up a lot of real estate in the structures. Depending on the location and the width of the outdoor dining area, the designs can use an overhead duct running through the rafters and the joists or use a chase wall along the exterior street-side wall of the pavilions.
Although some restaurants have turned to portable electric space heaters that are plugged into the wall, those units create operational challenges, Dellaquila says. Customers can tamper or fidget with them, and they can easily go missing, making them harder for operators to control. Heavy-duty electric infrared overhead space heaters require 220-volt electrical line, which is often impractical. Propane, on the other hand, is a fuel many restaurant owners are familiar with as an outdoor cooking fuel. Propane furnaces are also low-emitting and powerful enough to maintain the comfort in stalls even when they're being rapidly ventilated to maintain healthy indoor air quality.
Outdoor dining's community impact
Stokes Architecture's most prominent client, Philadelphia-based Starr Restaurants, operates some of the restaurants that have garnered the most social media chatter for their newly popular streateries. Among the structures Stokes Architecture has designed are solutions for the group's Parc, The Dandelion, and The Love in Philadelphia, and Le Diplomate and St. Anselm in Washington, D.C.
And at a time when some restaurant operators have justifiably decided to pause their own design and construction plans, these outdoor dining design projects have offered a new source of revenue for Dellaquilla's firm. At the beginning of the pandemic, some of the firm's employees cut back to part time until the firm adapted to find new types of projects. "As soon as these outdoor dining pavilions started becoming more prevalent, that's what I've been doing almost full time, working on those for the past year," Dellaquila says. He has now worked on at least 20 streateries, with about 15 of them currently in operation. "I've been incredibly grateful that this work is here, keeping me full time."
Given the firm's close connections to the restaurant industry, Dellaquila found it particularly gratifying to work on a project that has a deeper impact on his community. "There's one or two projects that came back where not only are the patrons super ecstatic to have their favorite restaurants back in business, but getting that feedback that these career restaurant staff now have their jobs again, it puts it all in perspective," he says.
Top photo: The Love streatery. Photo courtesy of Stokes Architecture + Design.