Heating a large water park affordably
Heating a large water park affordably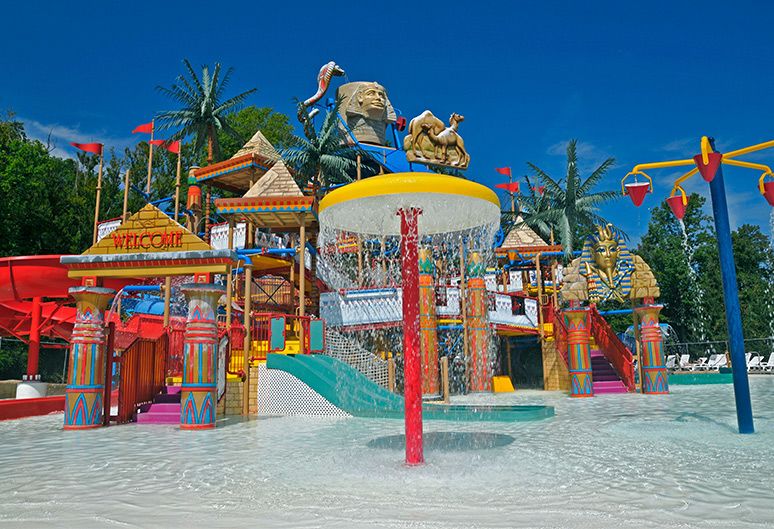 Heating a large water park affordably
Heating a large water park affordably
See how this mountain resort's engineering and pool-heating teams partnered on a high-performance, energy-saving heating system retrofit.
Heating
As supervising engineer for a mountain resort water park in the Poconos, Scott Stocker is responsible for maintaining, rebuilding, and fixing the vast amounts of equipment that keeps the aquatic attractions running. He's also tasked with managing energy costs. That means not just constantly monitoring thermostats and lighting but also selecting the most efficient pool equipment available.
"So when we're replacing old systems, we look for the most energy-efficient products that we can, and that includes heaters," Stocker says.
That focus on efficiency is what led Stocker to partner with Tom Soukup, a commercial pool-heating expert and owner of Patriot Pool Heating in Kirkwood, Pennsylvania, for several service and replacement projects in the last two years. Like Stocker, Soukup is laser-focused on the efficiency and reliability of the pool-heating equipment he installs. So when it came time to replace the heaters at the water park's 630,000-gallon wave pool, Soukup redesigned the propane infrastructure to maximize the efficiency of the new propane pool heaters for an expected 30 percent energy savings.
Check out the videos below to see how Stocker uses propane to heat a large water park affordably, and see Soukup's tips for maximizing pool heater efficiency.
Water park pool heating with propane
Stocker's resort offers some of the best skiing in the Poconos in the winter, and the extensive outdoor and indoor water parks transform it into a year-round destination. Established as a vacation destination for celebrities and the well-to-do in the '60s and '70s, the Poconos region today attracts a broad range of vacationers from its central location in Pennsylvania. The location of Stocker's resort offers not only a great skiing mountain but also a source of water for snowmaking. One thing it lacks, however, is natural gas. Instead, the resort relies on propane for commercial cooking and, in some cases, space heating and water heating.
For pool heating in particular, propane offers heating power that electricity wouldn't be able to match. "We have some restrictions on electricity based on snowmaking needs," Stocker says. "We have permits with the electric company as to how much power we can use." With 15 pool heaters around the property ranging from 1 million to 1.5 million Btu, the amount of amps required to match that heating power with electricity would be enough to light up a small town, Soukup adds.
With propane readily available, however, Soukup says developers and engineers shouldn't be scared of building energy-intensive projects such as water parks away from natural gas. "Because propane is a phenomenal alternative," he says. "The flexibility of propane allows you to move it where you need it, and you can pinpoint where it goes. With natural gas, you have to go through a lot of municipal hoops to see if the infrastructure can handle it. Propane is just so much more versatile in an environment like this."
Optimizing propane pool-heating efficiency
When customers arrive at Stocker's water park, they expect the pools to be a consistent warm temperature of 78–82 degrees Fahrenheit. In a climate where the nighttime temperature can drop to 40 degrees even in season, maintaining that consistent temperature requires the pool heaters to operate at peak performance. So when Soukup was brought in to retrofit the wave pool's three 1.5 million-Btu pool heaters, he worked with the engineers to optimize the propane distribution system. Instead of a single regulator for all three heaters, he switched to individual regulators that can fine-tune the amount of fuel delivery to manufacturer specifications.
"When you get the correct amount of fuel delivery, you get optimal efficiency," Soukup says. "As a contractor, we want to get the highest efficiency and longevity and get the most amount of Btus into the water from the units." Contractors should also pay attention to the water system to make sure it stays within manufacturer's specifications and to the piping design for both the water and gas systems, he suggests. "Make sure you understand your developed lengths. Make sure you account for your elbows, your restrictions, your head loss."
Even with standard-efficiency heaters, optimizing the heating system alone should create about 30 percent energy savings, Soukup says. But some facilities are choosing to convert to high-efficiency condensing propane pool heaters. Whereas standard units have to use some of the warm water they produce and send it back into the heater to avoid condensation that can damage the heat exchanger, condensing units are built for lower return water temperatures, so they can achieve full thermal efficiency.
A sister indoor water park at Stocker's resort uses high-efficiency condensing propane boilers to keep the attractions at an always-comfortable 84 degrees. Taken together, the two water parks are essential for keeping his resort competitive and drawing visitors year-round. "They can ski and they can swim in the same day," Stocker says.
In fact, Soukup serves multiple indoor water parks in the region, as well as several outdoor water parks and homeowners association communities with their own water parks, splash pads, and community pools. And by consulting with engineering and architecture firms to optimize their water heater and pool heater installations, he helps ensure those facilities maximize the efficiency of their systems to get the best return on investment.