PROPANE: A SUSTAINABLE FUEL FOR TRANSPORTATION
By: Gokul Vishwanathan
The move toward sustainable fleets is growing stronger all across the U.S. as more communities push for clean energy options. This month, four 35-foot electric buses hit the road in Montgomery County, Maryland. Each Proterra electric bus costs about $800,000 and is expected to save the county approximately $100,000 per year on fuel costs compared to its diesel counterpart [1]. In addition, a solar microgrid is being developed to serve as the charging station for the buses (the energy storage requirements for the charging station is unclear). The microgrid is expected to be commissioned in 2021, and the county's goal is to add 10 more electric buses by 2022.
While at first glance, this may seem like a viable and affordable energy source solution to lower emissions, a deeper dive shows it may not be the most cost-effective choice for fleets. The Department of Energy's (DOE) Energy Efficiency and Renewable Energy (EERE) Vehicle Technologies Office (VTO) tracks the average cost of Electric Vehicle (EV) charging in the US [2]. As of September 2020, the nationwide average EV charging cost spans from $0.08/kWh to $0.27/kWh with a total average of $0.15/kWh. In this case, the total average cost of $0.15/kWh assumes nearly 80% of charging was done at home, with 14% at the workplace or public station, and 5% with a DC fast charger for light duty vehicles. However, the levelized cost of charging goes up to $0.18/kWh, if purely charged at a DC fast charger [3]. Nonetheless, even with a "fuel" price of $0.15/kWh and a nominal battery capacity of 2.5 kWh/mile for medium-duty truck and bus applications, this national average "fuel" cost per mile for the electric vehicle would be $0.375/mile.
Figure Source: US Department of Energy
Comparatively, propane autogas is a domestically sourced fuel and is a byproduct of natural gas processing and oil refining. The national average price of propane autogas for the week of August 27th, 2020 was $1.41/gallon.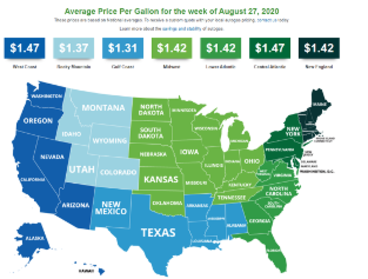 Figure Source: Alliance Autogas
Furthermore, propane autogas is an effective way to immediately have a positive impact on the environment. Its low-carbon, high-energy output makes it a good choice for fleets looking to reduce emissions. Propane autogas vehicles are already being certified for the California 2024 Low NOx (0.05 g/hp-hr) and 2027 Ultra-Low NOx emissions standards (0.02 g/hp-hr). Propane autogas also does not contain aromatics and polycyclic aromatic hydrocarbons (PAHs) and thus leads to very low particulate matter (PM) emissions. Propane vehicles pass regulatory requirements with ease without particulate filters — one more way that propane autogas vehicles save fleets money compared to diesel.
Not to mention, new innovations like renewable propane are making this an energy source for now and well into the future. Renewable propane has a lower carbon intensity than conventional propane, and is taking care of fleets with the low-cost, low-carbon impact they need. Renewable propane is obtained as a byproduct of sustainable aviation fuel or renewable diesel and is currently available.
It's for these reasons that fleets all around the nation are choosing propane autogas, including the Pittsburgh Transportation Group which chose to deploy twenty brand new propane-fueled buses instead of electric buses at the University of Pittsburgh [6]. The new propane autogas buses are not only helping the university work toward its carbon neutrality goals, but the buses are also able to keep up with the school's busy schedule without having to stop to recharge like an electric bus would need to do.
I also want to bring to your attention that propane could be a contributor to the electrification economy. DOE VTO recently selected Roush Industries to develop a propane auxiliary cabin heating system for electric buses.
To learn more about how propane can enable a low carbon, cost-effective and sustainable solution for fleets, visit Propane.com/Fleets.