4 myths about propane cost, safety, and performance
4 myths about propane cost, safety, and performance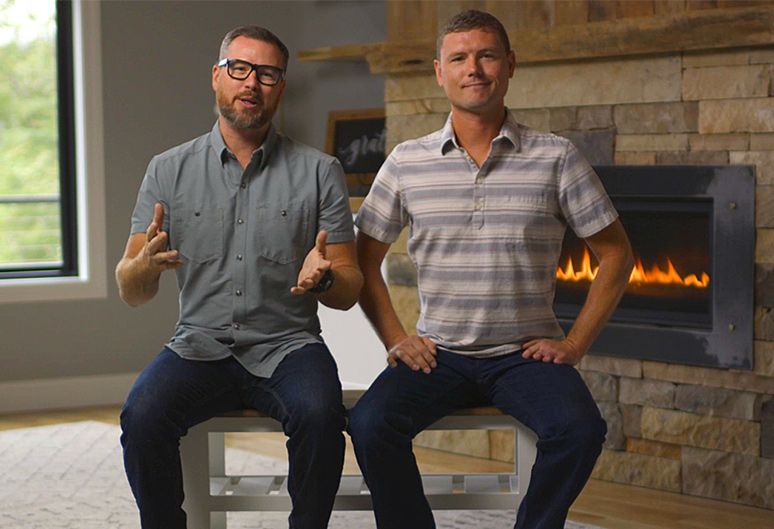 4 myths about propane cost, safety, and performance
4 myths about propane cost, safety, and performance
Join the Perkins brothers as they dispel four common myths about building homes with propane.
Myths
If you're a builder in the mountainous Bryson City, North Carolina, area, you're likely plenty familiar with propane. Natural gas access is limited to homes and businesses in the small city limits, so for about 90 percent of residents, choosing propane is the only route to using desirable amenities like comfortable gas furnaces, high-performance propane gas stoves, and standby generators.
As accomplished custom home builders in this vacation home market, Erik and Jaime Perkins are well-equipped to educate customers and dispel myths about building homes with propane. The owners of Perkins Enterprises, their full-service custom homebuilding firm, are also the stars of the popular Perkins Builder Brothers YouTube channel, which features the brothers taking on topics ranging from construction techniques to business management tips.
In our latest series, the Perkins brothers addressed four common misconceptions about propane systems to help their fellow homebuilders — and their clients — make an informed energy choice for their projects.
1. Propane tanks are big and ugly.
Having a large amount of propane storage is convenient for customers, helping to minimize trips from the propane delivery truck. But few homeowners want to use up precious outdoor space with a large storage tank. That's why the Perkins brothers prefer to bury the propane tank on their projects whenever possible. Flat, usable land in their craggy market is scarce, but a tank can easily be buried in a less useful spot such as the edge of a bank.
"We do that all the time, find some useless space and stick the tank over there," Jaime says. "And it's perfect. You don't have to worry about wasting their usable space."
The ability to bury a tank underground may be a useful point to bring up with customers, who might think they're going to have a tank the size of a submarine in their yard. "It'll be gone tomorrow," Erik tells clients. "It'll be buried."
2. Every home needs its own propane tank.
In developments with smaller lots, even space underground can quickly become crowded. Add a septic tank and an in-ground pool, and suddenly, adding a propane tank is a tight fit. The trend toward smaller lots is even arriving in less densely populated markets like Bryson City, Jaime says.
"There are some neighborhoods in Bryson that are becoming more dense and building right to the property lines — I mean, stacked in," he says. "In those kinds of cases, you wouldn't even have room to bury a tank." In those cases, community propane systems offer a solution that works like natural gas lines, with a centralized propane storage system distributing gas through metered lines to each home.
"We're actually going to build a little development, a 10-home development, in about two years," Erik says. "We've got some property, and I thought that that's a pretty good solution for what we're doing."
3. Propane is too expensive to install.
If adding gas to a project adds a little to the home's overall cost, the brothers' clients consider it well worth the investment, Erik says. "The people that want propane are very willing to pay a little up front, knowing they're getting energy savings with their heating system, they're going to be able to cook so much better, and their water heater is going to be more efficient," he says.
The exact cost difference will vary from home to home depending on how many appliances the client wants, the size of the tank, and whether they're renting or buying the tank. But it's also important for builders and their clients to know that using propane can lead to significant cost savings on the electrical side.
"A lot of our houses, you have to jump up to a 400-amp service if you want everything electric, and that's about $1,500 extra right there," Erik says. "So for the cost of what you're going to have to pay extra in electrical, literally you could trade that out for propane line installation and a tank." And those upfront costs don't factor in the long-term savings customers can achieve by using propane furnaces instead of electric backup heat. "That electric heat is super inefficient as far as a way to make hot air," he says.
If power outages are a concern in your market, don't forget to factor in the size of your standby generator, the brothers suggest. "You're talking a $12,000, $14,000 generator to run everything if you want to run the whole house on electric," Erik says. "You can buy a $5,000 generator if you have a gas water heater, stove, and heat."
4. Propane tanks are vulnerable in a disaster.
If your younger clients have watched certain action movies, they might think a propane tank is vulnerable to explosions. But the reality is that propane systems are just as safe as any other energy source — and the Perkins brothers' clients generally have few concerns. "They're mostly older, like retirement age, and have probably had several houses with different types of fuel and aren't too worried about it," Erik says.
One step the brothers always take is to work with a propane professional who makes sure all safety precautions are followed and can also provide helpful guidance on tank location. "Basically on every job, they work with us to figure out the plan," Erik says. "They try to do it the least expensive way for us, as far as the shortest length of line in the yard and in the house."
The Perkins brothers have gained a following of more than 200,000 construction pros and others who value their expertise on the latest tools or solutions for common building problems. Check out all four myth videos below, and share with your clients if one of these propane misconceptions pops up on your project.