How to power large construction sites
How to power large construction sites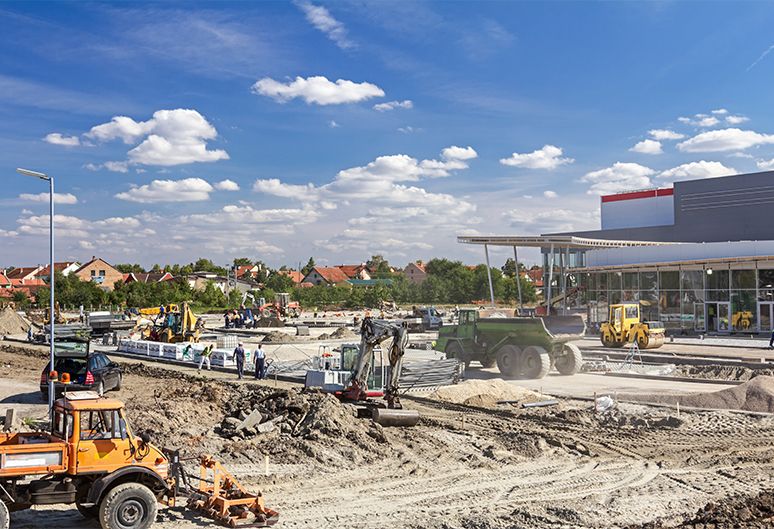 How to power large construction sites
How to power large construction sites
For commercial construction projects, mobile propane generators provide the capabilities that construction crews need with better cost and environmental performance.
Power
A construction site for a massive Amazon warehouse is a difficult place to bring in electric grid power.
These large commercial warehouses, which can have as much as 1 to 2 million square feet of space, are moving to areas where land is cheaper in order to find enough affordable space. But these less-developed areas also frequently lack easy access to infrastructure for natural gas and grid power, creating potential challenges for construction crews with power-hungry equipment.
To solve this challenge, many construction crews are turning to large mobile generators powered by propane. Keith Fields, director of sales for generator manufacturer Stateline Power Corp., recalls a recent delivery to an Amazon warehouse construction site outside of Cincinnati. "They're building the warehouse, and they're out in the middle of this 100-acre field," he says. "They didn't have any power. They had six or eight [mobile propane] generators on site and parked them all around this 800,000-square-foot building."
Fields recently presented a webinar illustrating the features and benefits of Stateline's mobile generators as part of the Propane Education & Research Council's Propane Presents Technology Series. Stateline's 30-kW unit is bundled on a trailer with three on-board 35-gallon propane tanks, offering about 30 hours of runtime before requiring a refill. A larger 60-kW mobile unit is also available without on-board storage, and both sizes can be connected to an external propane tank for longer run time between refills.
Propane generators for construction sites
Speaking after the webinar, Fields highlighted the features that make mobile propane generators particularly well-suited for construction sites. Propane generators pair particularly well with propane temporary heat. On a site like the Amazon warehouse project, both the generators and temporary heaters can run off of the same propane supply while the generators provide the electrical power required by the heaters. The generators can also supply power for large corded power tools or recharge batteries for smaller handheld tools.
In comparison to smaller generators, a large, towable propane generator with 30 kW of power is well-suited to a large jobsite. Contractors may need to power a job trailer in addition to construction equipment, and a 30-kW unit can power a 125-amp distribution panel that can run a variety of applications.
Because propane is included on board, contractors aren't sacrificing speed of setup. "You can take it to a jobsite and turn it on and fire it up," Fields says. "You don't have to have any external fuel source because tanks are on board. If you need temporary power for just a few days, you get enough run time just on the tanks that are on it. It makes it very versatile, not only for construction, but even for emergency services."
Environmental benefits
Mobile propane generators also offer cost and environmental benefits compared with diesel units. A diesel generator that complies with Tier 4 regulations that limit nitrogen oxide and particulate matter emissions costs about 50% more than a propane unit, Fields says. Contractors that have a competitive bulk rate propane price will usually see lower operating costs for their propane units.
Despite those Tier 4 regulations, diesel generators also create a smelly exhaust that leads to unpleasant jobsite conditions. Cleaner-burning propane units don't smell or create soot.
While construction crews frequently rent Stateline's mobile generators by the project, municipalities and businesses with multiple sites may purchase generators to have on hand when standby power is needed at different sites. Fields uses the example of lift stations, where failures could lead to costly or environmentally hazardous sewage backups. Mobile generators could be distributed wherever needed to keep the lift stations running during an electrical outage.
In the Propane Presents webinar, Fields also highlighted the customizable features of Stateline's generators, which can be configured with a variety of selectable voltages and outputs and can also be branded with a business's color and logo. Check out the recording to get up to speed on how mobile propane generators can bring enhanced productivity to your construction crews.