Preventing scale buildup in tankless water heaters
Preventing scale buildup in tankless water heaters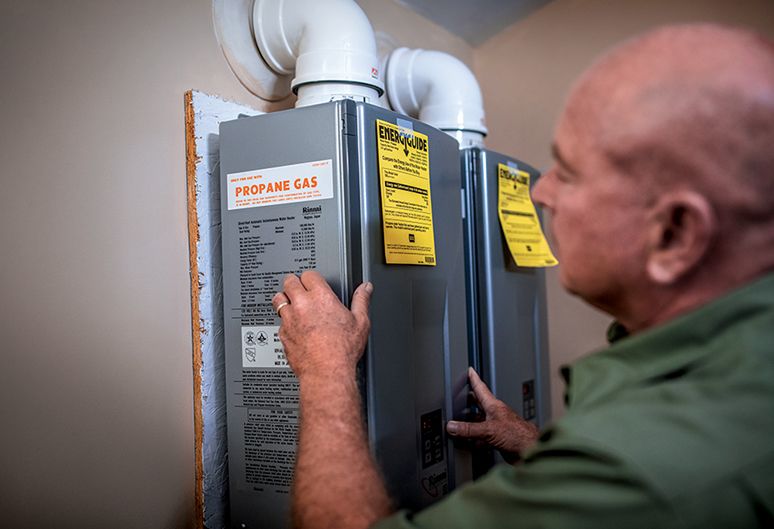 Preventing scale buildup in tankless water heaters
Preventing scale buildup in tankless water heaters
As manufacturers improve resistance to scale in their heat exchangers, pros can tackle potential issues straight from the water source.
Scale
A long lifespan is one of the distinguishing benefits of propane tankless water heaters. Properly maintained tankless units can last 20 years or longer, compared with an average of 8–12 years for an electric tank-style water heater. But some homeowners still have a perception that scale buildup can cause maintenance hassles or threaten the longevity of their units.
Scale buildup occurs in homes with hard water — water high in dissolved minerals such as calcium. The heat energy in the tankless water heater separates the calcium from the water, creating calcium deposits that can accumulate on the heat exchanger. Over time, if no action were taken, that buildup would make heat transfer more difficult, straining the water heater and reducing its lifespan.
The traditional, time-tested approach to preventing any problems is flushing the tankless water heater to descale it. The process takes about 45 minutes and requires a bucket, pump, and hose kit, with food-grade vinegar, says Kevin Morgan, energy sales director for Rinnai. YouTube star and builder legend Matt Risinger demonstrates the process here.
But if homeowners choose to have a professional flush the units, it can add a couple hundred dollars in cost to the annual maintenance routine. So tankless water heater manufacturers are taking steps to minimize scale buildup and reduce the amount of flushing needed. Navien, for instance, has moved to a high-grade stainless steel that is 10 times more resistant to scale than other metals, says Rich Fox, Northeast territory sales manager for Navien. "It handles harder water better," he says. "So it's going to go a longer period of time before having to be purged."
Plumbers and contractors can play an even larger role in reducing maintenance needs by addressing scale buildup at the source of the problem: water quality. By taking the time to educate themselves about water quality, pros can not only improve the performance of their tankless water heater installation but also reduce maintenance needs in other parts of the home.
Adding water quality to your toolkit
Phil Gent is a water quality fanatic. While his wife was checking out the paint colors of a new house he was shopping for, Gent was testing out the water quality. And as a water systems specialist at plumbing and heating distributor F.W. Webb, Gent advocates for pros to add water quality to their own service offerings.
"The contractor shows the customer that, 'Hey, I see that you're investing so much money in a heating system. I want to help you protect your investment. It's going to extend the life of your product,'" Gent says. "They're making themselves out to be a quality contractor selling quality product and looking out for their customer."
Water quality issues are very common but can vary from home to home, Gent says. A home with hard water would get not only scale buildup in a tankless water heater but also white calcification in the shower and water fixtures. High levels of iron can also clog a water heater and cause orange staining in the toilet and washing machine. Low pH or high levels of manganese can cause blue-green staining.
Gent suggests that when contractors meet with a customer and perform a heat-loss calculation to size the water heater, take a water sample bottle and offer to send it to a lab to test the water quality. Many distributors will test the water by the next day for a minimal charge and make a recommendation on any water treatment needed. The contractor can then provide the homeowner with options that will protect the value of their tankless installation and reduce other maintenance needs caused by water quality issues around the house.
If the tests show that water quality is an issue, the contractor can offer a whole-house water treatment option that takes care of the problem at the source. If that type of solution is out of the budget, tankless water heater manufacturers offer in-line treatment modules that can filter or soften water and eliminate scale right at the inlet of the tankless unit. "If you keep your softener up and working, the odds of ever having to flush it go way down," Fox says. That means spending once to solve the problem, rather than paying for more expensive maintenance every year down the road.
Contractors looking to take the next step as water quality experts can look for training and education opportunities, Fox says. The local distributor that provides water treatment equipment will generally offer excellent training, he adds. While the days of in-person classes with dozens of contractors may be on hold during the pandemic, Gent says that F.W. Webb is gearing up to resume small, socially distant training sessions. Amid pandemic-related economic uncertainty, investing in training for your team could help open the door to new business growth opportunities.