Homeowner Q&A: "It's nice to keep the essentials running."
Homeowner Q&A: "It's nice to keep the essentials running."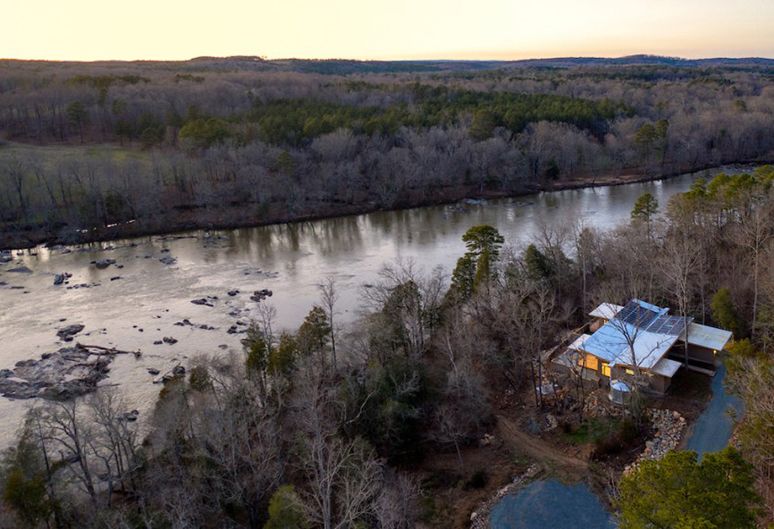 Homeowner Q&A: "It's nice to keep the essentials running."
Homeowner Q&A: "It's nice to keep the essentials running."
Riverfront home's owner discusses his net positive goals and the benefits of a propane standby generator.
Essentials
Is there a better place to spend your socially distant pandemic time than in a secluded riverfront home where the closest neighbors are a mile away? After we covered architect Arielle Schechter's ultra-green Haw River house, the Can-Do Journal spoke with owner Scott Zimmerman about his favorite features in the new house and how propane fits into his family's green lifestyle.
"We built and designed the house to look at the river," Zimmerman says. "It's a 'green' house and we had to order all the doors and windows from Europe, and one of the doors is a 20-foot sliding glass door that is in the great room. Literally you walk in the front door and see the sliding door and then see the river. That would be my favorite part of the house. You can sit at the breakfast table and watch the river. It's beautiful."
A 22.5-kW solar photovoltaic array with battery storage meets most of the home's power needs, but Schechter specified a propane standby generator to protect the home in an area that experiences frequent outages. "It's been my experience down here that power does go out two or three times a year, so it's nice to keep the essentials running," Zimmerman says.