Busting 4 outdoor living myths
Busting 4 outdoor living myths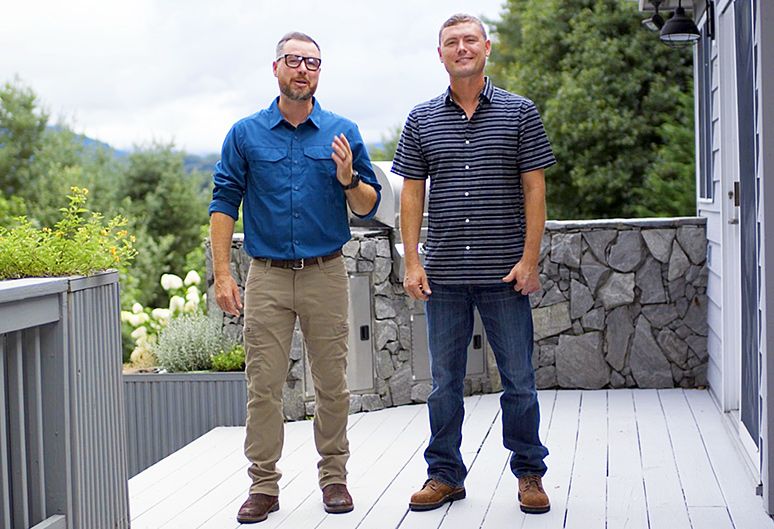 Busting 4 outdoor living myths
Busting 4 outdoor living myths
In the Perkins Builder Brothers outdoor-centric market, offering enhanced outdoor living spaces is key to ensuring client satisfaction.
Myths
Bryson City, North Carolina, is a vacation destination for outdoors enthusiasts, filled with second homes for travelers who want to escape among the Great Smoky Mountains. So it's only natural that Bryson City custom builders Erik and Jaime Perkins are the newest builders to debunk a few common myths about outdoor living.
"It's literally the reason that people want to move here," says Erik, who, along with his brother, owns and operates Perkins Enterprises, a full-service custom homebuilder focusing on mountain homes in Western North Carolina. The brothers are also the stars of their popular Perkins Builder Brothers YouTube channel, where they take viewers along through all the stages of building projects while also discussing business challenges, building science, and construction tips.
In our latest series, the brothers offer their take on four common misconceptions about outdoor living.
1. I can't make money on outdoor projects.
As custom builders, the Perkins brothers try to let their clients dictate their own vision for their home. But if the brothers didn't include outdoor living within the scope of their projects, they'd be leaving money on the table. "Almost everybody wants to be outside here and enjoys cooking or entertaining outside," Erik says.
Even if the customer is waiting to add a deck or patio later, the builders will typically try to make the connections as propane-ready as possible while the construction trades are on site. "We always go ahead and put in the extra T's, put in the extra connection points; and if there's any underground piping that we can do at the same time, we'd go ahead and do it and make them all ready to go," Jaime says. "So they definitely save money, not having to get another crew out there to do piping."
As the builders make more of their projects camera-ready for their YouTube channel, they'll probably consider outdoor living projects even more strongly to enhance the curb appeal — a tactic other builders may want to consider for their own marketing. "We want to build a house, and we want this thing to look done and really attractive, and we want to style the thing, right?" Jaime says. "So we're going to be probably incorporating those things in more now than before because we need it to look really appealing and have everything in place when somebody comes to see it."
2. Pools are only for the summer.
In mountainous Western North Carolina, the pool season would be awfully short if contractors didn't install a pool heater for improved comfort. "It's just not real hot here in the summer," Erik says. "Pools around here don't even really get warm in a lot of cases. If you don't have heat on them, then nobody wants to go swimming in them."
Pool contractors in their area typically choose pool heaters powered by propane, which can heat pools regardless of outdoor temperature, unlike electric heat pump pool heaters.
3. Fire pits are dirty and time-consuming.
Many of the homes the Perkins brothers construct are used as vacation homes, so there's one thing they never recommend to their customers: a wood-burning fire pit or fireplace. "You don't just have a stack of wood sitting around that's ready to burn," Erik says. "There's no hot coals that can fly out either." Plus, vacationers love the convenience of a propane unit that can turn on at the flick of a switch. "The convenience of not having to gather firewood, split it, keep it dry, stack it, move it; the dirty mess of doing that, people are less interested in that for sure," Jaime says.
For outdoor fireplaces, many customers assume that a wood unit will be cheaper, but in reality, putting in a flue for a wood fireplace that goes through the roof with class A stainless steel pipe and passes fire safety code by extending well above the roof can add several thousand dollars in cost. "It turns into a ton of work where you can just vent out the back wall with the piping for the propane one," Jaime says. "We love it when it's a gas one. It saves us a lot of time."
4. Outdoor living is a low priority.
Whereas some contractors might recommend their customers focus their dollars on interior upgrades, the Perkins brothers recognize that outdoor living is extremely high on the priority list for their customers. Although at their typical price point, under $1 million, only the occasional customer chooses to install a full outdoor kitchen, many customers choose to run an outdoor propane line for a grill.
"I think that's probably the most popular one for outdoor living," Jaime says. "Having a piped-in gas grill lets people avoid fooling around with the little propane cylinders." For larger budgets, the grill can be the centerpiece of a full outdoor living space with patio heaters, a fire pit, or even a heated pool.