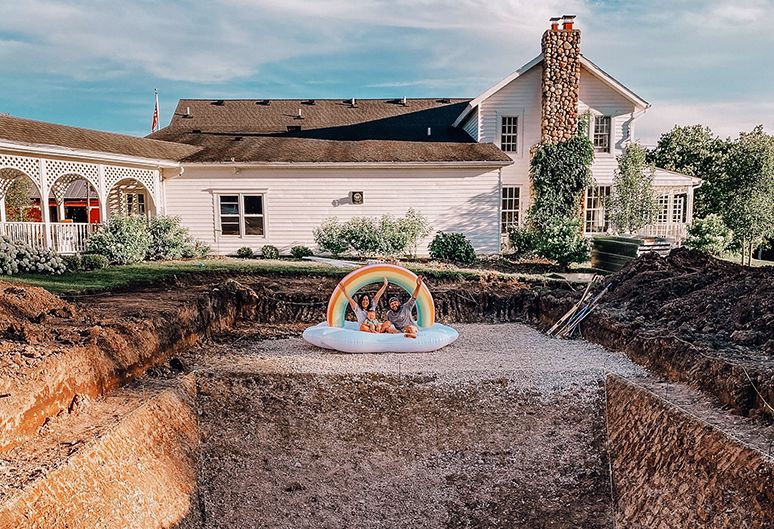 An Instagram-worthy updated farmhouse renovation
Design bloggers are popularizing the modern farmhouse look both inside and outdoors.
Call it "the Joanna Gaines effect." The modern, refined farmhouse style popularized by HGTV's "Fixer Upper" star is taking the country by storm, with farmhouse design influencers gaining thousands of followers on social media. Our Can-Do Journal interviewed White Cottage Farm's Liz Marie Galvan, whose own remodel of an 1800s Michigan farmhouse is racking up views on Instagram. Like many families stuck at home during the pandemic, Galvan and her husband, Jose, are taking their canceled vacation plans as an opportunity to enhance their outdoor living space.
"First, we are installing an 8-foot in-ground pool that will be heated by propane," Galvan says. "We have been talking for several years about installing a pool and this year just felt like the right time for our family.
"Once the pool is in place, we are going to put an outdoor living area in on the side of the house. Imagine movie nights outside, cozy furniture around a fireplace that acts as our fire pit. Imagine an outdoor kitchen area and a long outdoor dining area for all of us to gather with friends and family. Imagine slate, antique brass fixtures, earthy paint colors, lots of wood elements, and messy potted plants everywhere. Very French cottage and very white cottage farm feeling."
With many of your clients taking their design cues from popular Instagram influencers, there's little doubt remodelers will be seeing plenty of requests for modern farmhouse design features in their projects. It's a design aesthetic you can extend both inside and outdoors with cozy features to enhance built-in outdoor kitchens and dining areas.