Restaurants and hotels move dining outdoors
Restaurants and hotels move dining outdoors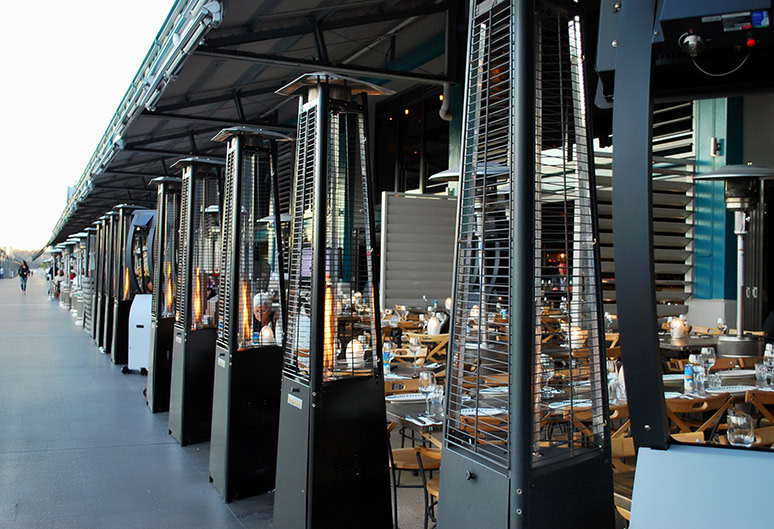 Restaurants and hotels move dining outdoors
Restaurants and hotels move dining outdoors
Enhanced patio spaces could be table stakes for businesses hoping to sustain their business during the pandemic.
Restaurants
Architects and designers have begun the process of reimagining hotels and restaurants for a post-pandemic world, and it's no surprise that health is taking center stage. In a new white paper from architecture firm Leo A Daly, architects Ryan A. Martin, Pamela D. Goff, and Mark Pratt write that the global pandemic has compromised the trust that hospitality brands have earned and reinforced through design. Their white paper examines how hotels can adapt the guest journey to these challenges, incorporating changes to wellness screening, ventilation, and guest rooms.
"The need for physical distancing will also change the look and feel of food and beverage outlets," they write. "The hotel's bars and restaurants may need to be downsized, expanded to accommodate greater space between tables, or moved outside. There may be a renaissance of al fresco dining."
It's a vision shared by other industry experts. In LoopNet, reporter Dawn Allcot speaks with several restaurateurs embracing outdoor dining to expand their seating and keep guests comfortable. "Those restaurant owners who go the extra mile to spruce up their outdoor spaces may find they've turned the proverbial lemons into lemonade and attracted a new base to sustain their business even if we face pandemic fallout for some time," she writes.
In April, Build With Propane covered the nationwide rise in patio heating for hospitality environments. With little sign of the pandemic abating and with cooler fall weather approaching, it's a trend that may continue to heat up in the months ahead.