Powerful water heating that fits a small footprint
Powerful water heating that fits a small footprint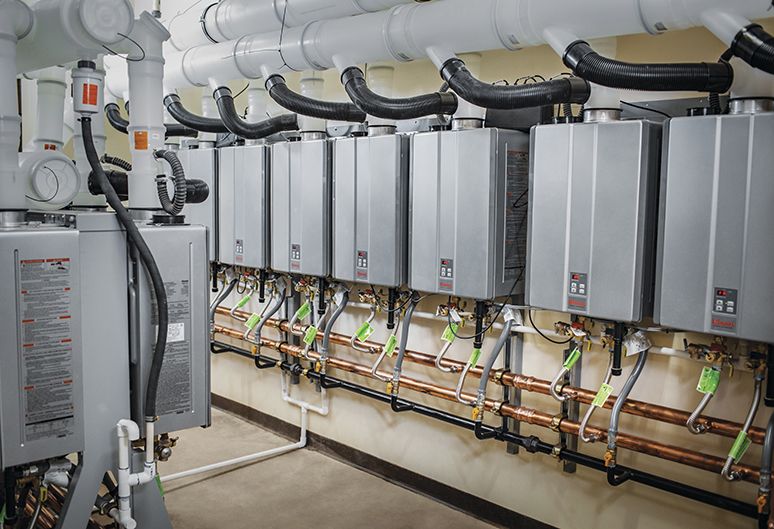 Powerful water heating that fits a small footprint
Powerful water heating that fits a small footprint
Facilities turn to powerful tankless or high-input storage water heaters to decrease size and improve efficiency.
Powerful
Facilities are looking to pack more water-heating power into smaller spaces — a trend for which propane commercial water heaters are particularly well-suited. In a roundup on commercial water-heating design for PM Engineer, editor Nicole Krawcke interviews several manufacturers about the trends they're seeing in commercial applications.
"Energy and space savings (the consumer's awareness for green products) is still the No. 1 trend for tankless water heater systems in commercial applications," Chia Lin, product manager for water heaters at Navien, says in the article. "This is followed by an increased demand for smart water heaters, and ability to cascade multiple units together along with ready-link racks to meet higher volume demands of large commercial applications."
Matt Schulz, senior manager for commercial new product development at A. O. Smith, adds that building managers are often trying to reduce the mechanical room footprint, and high-input condensing commercial water heaters offer an advantage in terms of decreased size and increased efficiency. "The need for instant and continuous hot water drives many businesses like healthcare facilities, hotels, and restaurants, but they can lack mechanical room space, so designing solutions that fit a small footprint and still deliver results is a top priority," he says.
Commercial propane storage tank water heaters offer superior hot-water delivery and reduced energy costs compared with traditional electrical storage tank units and come in a wide range of capacities to meet the hot-water demands in any commercial building. Commercial propane tankless water heaters, meanwhile, are quickly becoming mainstream water-heating specification for a variety of building types.