Generators are joining batteries in energy storage solutions
Generators are joining batteries in energy storage solutions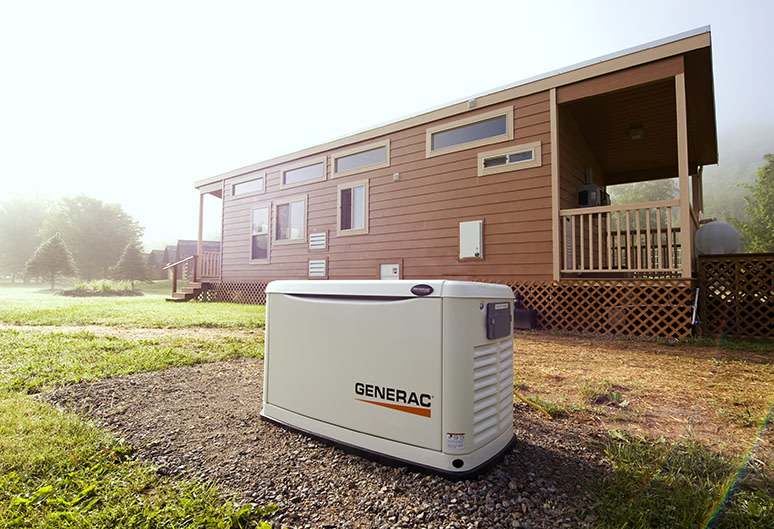 Generators are joining batteries in energy storage solutions
Generators are joining batteries in energy storage solutions
With new technologies on the market, propane standby generators can enhance energy storage systems for a better home-resilience package.
Generators
Jayson Waller has grown a thriving business in energy efficiency and solar panel installation in recent years. His Mooresville, North Carolina–based company, Powerhome Solar, has bloomed from 15 employees in 2015 to 950 employees and 16 locations in 10 states today. But this year, Powerhome has a major marketing initiative around a new package offering: energy storage systems and standby generators.
The initiative reflects a new viability for the combination of solar panels, battery systems, and standby generators to create a complete home-resilience package. It also solves a major pain point for residential solar customers. Homeowners with solar photovoltaic panels want their renewable energy to keep flowing when the power goes out, and they're often surprised to learn that their solar inverter has to shut down for safety reasons when the utility power goes out.
A home energy storage system solves that problem by allowing the inverter to island itself from the grid and continue to charge the home's batteries. Adding a propane standby generator offers even more independence, creating an additional form of onsite energy storage that provides power to the home after the battery is drained so homeowners can protect their whole home for much longer.
Generator integration goes mainstream
In the past, combining solar panels, batteries, and a standby generator was a bit like a science experiment. Contractors generally had to configure their own system, bringing in one company's inverter, another company's battery technology, a third company's solar technology, and an off-the-shelf generator.
Generac, a major standby generator manufacturer, took a big step toward resolving that challenge in 2019 when the company acquired energy storage system manufacturer Pika Energy and energy management technology company Neurio Technology to create PWRcell, a new solar-plus-storage system that easily integrates Generac's standby generators.
"What we've seen is a desire from customers to have more diversified solutions," says Adam Schroeder, product manager for Generac's clean energy solutions group. "People are looking for different solutions to maintain resilience and reduce the costs that they pay for electricity."
At Powerhome, Waller saw Generac's offering as an ideal match for his target customer. "The same people that get generators, it's the same people that get solar, the same people that are sick of relying on the utility company," Waller says. "And it's the same people that are sick of paying enormous bills. They want to be able to own and control what's going on in their home."
Resilience with energy storage
Several trends have aligned to put energy storage systems in the spotlight. One is economic. Electricity costs in some states are rising high enough to turn solar systems into a sensible investment, and customers are looking for a way to flatten the cost of their power as utility companies introduce new tariff rates and structures. Another is environmental awareness as homeowners look for ways to use renewable energy to reduce their carbon footprint.
A third factor is resilience — the ability of homes and buildings to adapt to disruptions ranging from ice storms to wildfires and hurricanes. That factor is becoming even more prominent as utilities in California and other wildfire-prone regions institute preemptive public safety power shutoffs to reduce wildfire risk. For customers seeking resilience, energy storage systems offer a way to keep the solar energy flowing — but with inherent limitations.
"For customers who experience long, extended outages, solar and storage is not the best solution," Schroeder says. "Generac happens to manufacture the world's best solution, and that is a home standby generator."
Standby generators continue to provide power regardless of the weather conditions. When it's cloudy or there are thunderstorms rolling through, homeowners can't rely on their solar panels to top off their batteries. Think of it like a pump and a bucket, Schroeder says. An energy storage system provides a bucket of power that can operate through a couple hours of power outage — maybe even a day if the sun is shining and the homeowner uses electricity sparingly. But the bucket can only last so long. The ultimate solution combines the energy savings of a solar-plus-storage system with the additional resilience of a standby generator.
Reducing electrical loads for improved performance
In addition to solar and energy storage systems, Powerhome offers energy-efficiency services such as blown insulation and LED lighting. These services make the entire solar-plus-storage system more cost-effective, Waller says. "We provide an energy-efficiency audit to make the home more efficient, so we don't have to sell them a lot of solar. We can sell them less."
Moving a home's major energy uses, such as heating and water heating, from electricity to propane can have a similar effect, Schroeder says. "The more you can take off of the system requirements in terms of electrical load, the easier it's going to be," he says. "So that battery storage system, on a 2,000-square-foot house that's all-electric, will only last 4–8 hours. If you have a house that has propane heating, propane stove and dryer, and all of that, then you can maybe stretch that out to be 12 hours or a day."
Both Waller and Schroeder agree it remains difficult to disconnect from the grid entirely, at least for a homeowner's primary dwelling. But as utilities implement time-of-day pricing, more homeowners may be interested in smart energy management systems that can draw power from the batteries and then switch over to the generator instead of drawing on the grid during peak rate periods.
While the practice of combining solar, storage, and generators is still in its infancy, companies like Powerhome and Generac are working to make it a more mainstream solution. Powerhome is working on a program for builders to help make their new homes solar-ready. And later in 2020, Generac is introducing the ability to integrate the company's home standby generators with its solar-plus-storage system.
Schroeder can envision generators designed and purpose-built for energy storage applications in the future — one more step that would turn solar, batteries, and propane standby generators into a resilience solution for the masses.