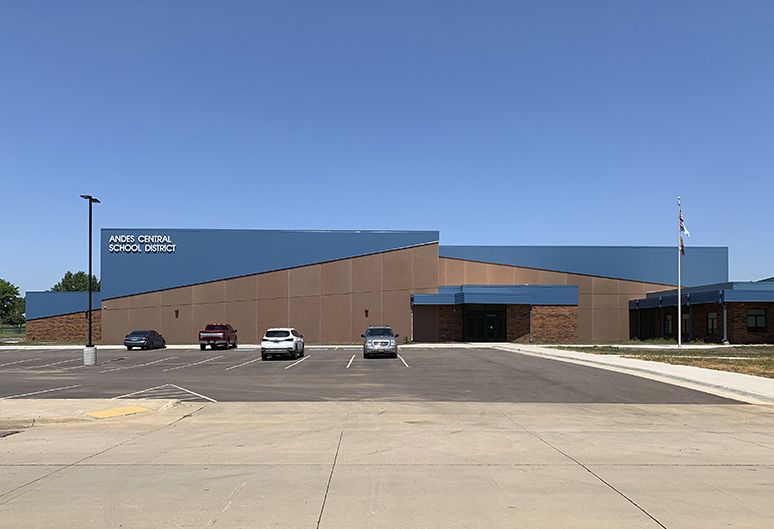 Andes Central High School wins Propane Project of the Year
With a design that accommodates current needs and future flexibility, architects and engineers at TSP created a standout facility that students, and the entire district, can be proud of.
Building a new high school is a significant project in any school district but especially so for a small school district like South Dakota's Andes Central.
With its existing high school landlocked and aging in a 1930s-era structure, the district in Lake Andes, S.D., had been losing students who chose to open enroll in surrounding districts with newer facilities. Residents and the school board wanted to unite the district's 350 students by building the high school as a 55,000-square-foot addition at the site of the existing 25,000-square-foot elementary and middle school. District superintendent Debera Lucas had three primary goals for this vital community project: It had to be flexible enough to adapt to future needs, reflect the unique makeup of the district's population, and meet ambitious sustainability objectives.
"We fully intend this building to be here for many, many years, and we want it to be as efficient and clean as we can for not only the students but the community," Lucas says.
The district turned to architecture and engineering firm TSP to create a design that prioritizes these goals while remaining thoughtful of the budget for a small school district. The resulting high school stood out to judges of the Propane Project of the Year awards, earning TSP, Sioux Falls–based architect Chase Kramer, and mechanical engineer Roger Nikolas the contest's grand prize. But more importantly, it's emerged as a beautiful project the community can be proud of for years to come.
Designing for classroom flexibility
Because of the school's small size and student body, the school district asked TSP to design the facility not just for today but for what could be tomorrow. TSP responded by creating 12 flexible classrooms with multiple uses in mind. These include science "classatories" with movable fixtures and furniture to easily transform from classrooms to laboratories and back again.
The architects also thoughtfully repurposed the facility's existing spaces. The building's original gym became a K-12 library with new clerestory windows and is now the heart of the campus. A corridor linking the new high school to the existing cafeteria forms an outdoor courtyard that can serve as a protected classroom space.
Signage in the corridor is emblematic of the way TSP and the school paid homage to the school's unique student population, which is about 75 percent American Indian. Part of the land in the Andes Central School District is tribally owned by the Yankton Sioux Tribe, and tributes to the district's American Indian values appear throughout the school. In the corridor, banners feature characteristics of good students written in both English and the Sioux language Dakota. "You can see kids taking pride in a school that was designed for them," Lucas says.
Sustainable with propane
The design team's dedication to sustainability is apparent in both the structural design and mechanical systems. The district wanted to achieve "LEED-like" values for the building shell, glazing, and insulation, and TSP specified continuous insulation and window U-values that go beyond what would have been required by energy codes.
With its rural, small-town location in an agricultural community, the district has no access to natural gas for heating. The original building was heated by propane boilers; two geothermal systems had been retrofitted over the years, both of which relied on the propane boilers as a supplemental hybrid heating source. So, in designing the heating system for the new high school, Nikolas originally considered turning again to geothermal.
"We looked into that and started costing it and just realized that we can't afford it for what we want to do, for how much building we want to build," Nikolas says. "That drove us back into, 'Let's look at propane-fired boilers.'" Two condensing Lochinvar Crest propane boilers with 2,500 MBH (thousands of Btu/hour) input and 25:1 turndown will heat the new school and replace the old boilers, feeding back into the existing system, including the still active geothermal.
Saving on that upfront cost was critical for a project with a tight budget. "Certainly, if they would have went with a geothermal system, that cost would have been higher, and they only had so many dollars," Nikolas says. "So that would have forced them into either constructing less building, less classrooms — giving up something else if they had that geothermal system."
Flexibility and comfort benefits
But upfront cost was only part of the rationale. Adding more geothermal would have reduced that future flexibility that was so important to the school district, Kramer says. A new well field would have been located in land that was earmarked for future expansions. "You never want to put a building over a well," Kramer says. "We didn't want to landlock ourselves by having this geothermal well field."
Propane boilers also offered advantages from the perspectives of comfort, controllability, and maintenance. The boilers feed a number of heating systems throughout the school. Almost all of the rooms use either radiant ceiling panels or fin tube radiation to take care of heat loss through the building skin. Multiple air-handling units are zoned for different parts of the building, with variable air volume boxes to control the airflow. The boilers feed heating coils inside the air handlers to preheat the ventilation air.
"I always say nothing should trump comfort," Nikolas says. "You've got to make sure that those kids are in a comfortable environment where they can learn."
Achieving that comfort is easier with a boiler system, Nikolas says, because it's easier to raise the water temperature when necessary to warm up the fin tube radiation or ceiling panels. "You can make hot water with geothermal, but you're limited to maybe 130-degree water," he says. "You can make 160-, 180-degree water — warmer if I wanted to — in the boilers." Warmer temperatures have trade-offs in efficiency, however, so controls must be used strategically.
In the school's small, rural community, the local technicians are also more familiar with propane boilers than with geothermal systems. "They're not as complicated on the control side — and certainly not to fix them," Nikolas says.
Hot water and a hardworking kitchen
While the design team initially looked at geothermal for space heating, they never considered going electric for the school's domestic hot water, instead specifying two condensing, 95 percent efficient PVI Conquest units rated to produce 291 gallons of hot water per hour at 100-degree rise. Energy costs for electric water heating would certainly have been higher than for condensing propane units, and the school may have even required upgraded electrical service, which would have entailed additional infrastructure costs.
Uniting the high school with the middle and elementary school on a single campus allows the district to more easily share resources — the music and art teachers no longer have to drive between the schools in the middle of the day, for example. The original building's kitchen had been serving as the main kitchen for the district, preparing food for transport to the high school. With the schools united, Lucas is seeing huge savings in time, and students get the benefit of freshly prepared food.
Cooks in the hardworking kitchen, meanwhile, benefit from a high-capacity propane stove. From both a cost and performance perspective, most cooks prefer gas over electricity, Nikolas says.
From the building envelope to the mechanical systems, Lucas valued the TSP team's ability to listen thoughtfully to the district's needs, research options, and present them to the district. The Propane Project of the Year grand prize award enhanced that designer-client relationship even further when TSP donated its $10,000 prize money to the school district in a presentation in November.
"We were able just to give them a beautiful facility that's going to serve them for decades to come," Nikolas says. "And I think the community can be proud of that facility."