Introducing The Ultimate Guide to Community Propane Systems
This collection of real-world stories offers best practices on evaluating and implementing these builder-friendly systems in new communities.
For some new home developments, the availability of gas amenities can make a difference in whether the project pencils out. That's why we want to make sure builders and developers have all the information they need about community propane systems. Also known as jurisdictional systems, community propane systems function just like natural gas, delivering propane through a network of underground pipes that connect to homes with individual gas meters. And they can be a surprisingly affordable way to bring gas to new communities where natural gas infrastructure is too expensive or unavailable.
We've created several new resources to help you get the information you need about community propane systems. Our latest e-book, The Ultimate Guide to Community Propane Systems, collects our most valuable resources and case studies on this technology in a comprehensive format that makes it easy to evaluate this option and share with your construction and development partners. Whether you're evaluating the marketing and revenue opportunities or want to learn more about how the systems work, this e-book is the perfect place to start.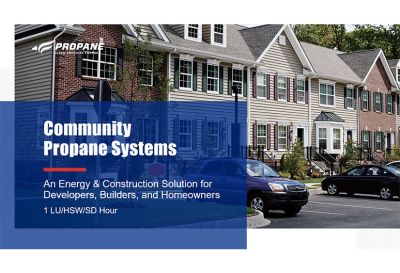 If you already understand the basics and you're ready to dig deeper into the details, enroll in the Propane Training Academy's Community Propane Systems, An Energy and Technology Solution for Developers, Builders, and Homeowners. This one-hour training course provides in-depth insight on the use cases for community propane systems and the key operational features that make them a viable alternative to using natural gas.
And don't just take our word for it. In our latest video with Foxlane Homes, hear from a builder who has used community propane systems on his own projects and continues to build with propane as he grows his building firm to compete with some of the biggest builders in his region.
The high cost of land is forcing builders to look beyond the natural gas pipeline for new opportunities. Make sure you understand all your energy options so you can compete for desirable lots regardless of the natural gas infrastructure.